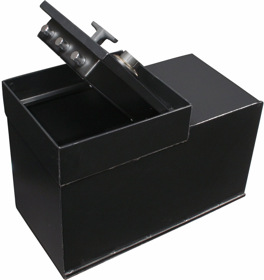 Super Brute, Hinged Door Floor Safe, Exterior W 12-3/4in x W 24in x D 16-3/4in, Combination Dial, 145lb
Part#: AMSB3700
Hot#: 141350
Exterior W 12-3/4in x W 24in x D 16-3/4in, Interior W 11-3/4in W 23in D 14in, Door Opening 10-3/4in x 11-1/8in


American Security BRUTE SERIES Floor Safe
---
All BRUTE SERIES safes are designed to provide secure storage for documents, jewelry, precious metals and miscellaneous valuables at an economical price. When properly installed in a concrete floor, BRUTE SERIES safes provide excellent fire and burglary protection.
BRUTE floor safes meet and exceed the requirements of the Insurance Offices Manual of Burglary Insurance. You may also add many options to customize your safe such as: A drop slot in the door, depository chute, or keylocking dial to name a few. BRUTE SERIES safes may be installed in the floor, wall, cladding or within a larger safe.
---
STANDARD FEATURES
Black textured body and door.
Attractive design offers strong reliable welds to protect against burglary attacks and reduce possible leakage.
Every Brute Series safe now comes standard with AMSEC's ESL5 Electronic Lock with Illuminated Keypad in Bright Chrome. Optional combo lock available.
An additional spring-loaded relocking device, activated by a punching attack.
Lock and relocks are protected by a large carburized hardplate.
A handle activated locking mechanism consisting of three 1" diameter locking bolts. Each one is drive resistant, chromed steel with a long throw.
One piece heavy duty dead bar behind hinge prevents removal of door even if hinges are removed during a forced entry attempt.
Door is designed to fit full body size, which greatly reduces any possible pry points.
Doors are interchangeable within product group.
BODY FEATURES
Oversize floor plate ensures strong installation in concrete.
Flush cover plate.
Solid steel hinge mechanism using 3/8" diameter steel hinge pins and internal mounting bolts.
Super Brute Additional Features
The SUPER BRUTE's new door jamb design is manufactured with state-of-the-art equipment, with built-in devices offering the ultimate protection against sledgehammer attack.
"B+" rate door: 3/4" solid steel plate door is standard.
Doors are removable and interchangeable.
Brute Rectangular Body, Wide Door Features
A large, convenient 10-¾" x 11-1/8" door opening for bulky items.
One sliding shelf with double wide model (B3700). Two sliding shelves with triple wide models (B5800).
Attractive carpeted floor in every unit.
---
SuperBrute "B" Rate Rectangular Hinged Door Floor Safes Specs
| | | | | | |
| --- | --- | --- | --- | --- | --- |
| B1500E5 | 12.25 x 13.25 x 8.75 | 12.75 x 14.125 x 11.75 | 10.75 x 11.125 | 1377 | 102 |
| B2200E5 | 12.25 x 13.25 x 14 | 12.75 x 14.125 x 17.5 | 10.75 x 11.125 | 2203 | 118 |
| B2900E5 | 12.25 x 13.25 x 18.25 | 12.75 x 14.125 x 21.375 | 10.75 x 11.125 | 2872 | 134 |
| B3700E5 | 12.25 x 23 x 14 | 12.75 x 24 x 17.5 | 10.75 x 11.125 | 3785 | 145 |
| B3800E5 | 12.25 x 18 x 17 | 12.75 x 18.75 x 21.375 | 10.75 x 11.125 | 3864 | 136 |
| B5800E5 | 12.25 x 35 x 14 | 12.75 x 36 x 16.75 | 10.75 x 11.125 | 5758 | 185 |
Brute Wide Door "B" Rate Rectangular Hinged Door Floor Safes
| | | | | | |
| --- | --- | --- | --- | --- | --- |
| B1806 | 12-1/4 x 18.5 x 6 | 13-1/4 x 19.5 x 9 | 11-3/4 x 16 | 1360 | 102 |
| B1810 | 12.33 x 18.5 x 10 | 13-1/4 x 19.5 x 13 | 11-3/4 x 16 | 2281 | 116 |
| B1816 | 12-1/4 x 18.5 x 16 | 13-1/4 x 19.5 x 19 | 11-3/4 x 16 | 3626 | 142 |