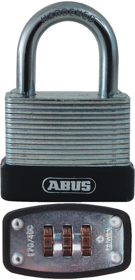 RESETTABLE COMBO PADLOCK 3 DIAL CARDED
Part#: ABU170/40C
Hot#: 100622
Mfg: Abus Lock Company
1-1/2" Wide Shackle dia. 1/4" Clearance 3/4"


Overview
Specifications
Helpful Links
ABUS 170 Series Combination Padlock
3-Dial Resettable Combo Padlock
The 170 Series is a 3-digit dial steel laminated padlock. The combination can be easily reset by following the directions. The laminates are individually plated for longer weather resistance.
---
Features
Rugged laminated steel body.
Case-hardened shackle.
Bottom setting for protection from weather.
Rust-protected, individually dipped steel plates.
Resetting tool included.
---
Technical Data
| | |
| --- | --- |
| Width a (inch): | 1-3/4 |
| Horizontal clearance b (inch): | 13/16 |
| Vertical clearance c (inch): | 63/64 |
| Shackle diameter d (inch): | 1/4 |
| Depth e (inch): | 63/64 |
| Height f (inch): | 2-19/32 |
| Weight (lbs): | 0.40 |
Specifications for Abus Lock Company ABU170/40C
Other Specs
| | |
| --- | --- |
| Alternate Codes | 100622, 170/40C, 17040C, 702196 |
| Body Width | 1-1/2" |
| Color/Finish | Steel |
| Cylinder Type | 3-Wheel Combo, Resettable |
| Lock Style | Rectangular Lock |
| Lock Type | Combination Lock |
| Shackle Clearance | 3/4" |
| Shackle Diameter | 1/4" |