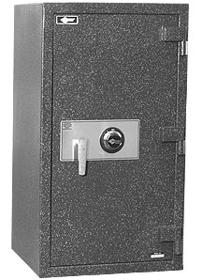 B-Rate Residential Burglary, 60 Minute Fire Safe, Granite Textured with Chrome Hardware, ESL10XL Electronic Keypad, 690lb
Part#: AMSBF3416-LTE-GR-ESL10
Hot#: 101553

Available: 12 ( 1 KAN, 8 LA, 2 PHX, 1 SEA )

Exterior H 38in x W 20-1/2in x D 21-3/4in, Interior H 34in x W 16-1/2in x D 16in, 8,976 Cubic Inches, 2 Interior Shelves


Series Overview
Specifications
Helpful Links
Other Finishes
Notice: The info below is not item specific.
Amsec BF Series Burglary and Fire Safes
---
The BF® Series offers a unique design that combines all the security Features of a burglary safe and the peace of mind achieved with a fire safe. The industry's first U.L. Listed, fire-rated burglary safe offers an affordable solution when burglary and fire protection are an essential part of your buying decision! During Underwriter's Laboratories grueling testing procedures, the BF® Series earned the U.L. Listed Class 350°F One Hour Fire Label and the (RSC) Residential Security Container Burglary Label.
Features:
The best warranty in the business. Lifetime fire replacement and one year parts and labor.
"B" rated heavy duty construction.
1/2 hour U.L. Fire Rating, 350°F. Tested at temperatures up to 1700°F
Door:
3-1/2" thick, consisting of 1/2" plate steel with a unique proprietary fire and burglary resistant material.
Dual seal design utilizes a silicone foam seal with a heat-expanding intumescent seal.
Body:
2-5/8" thick, consisting of 1/8" outer and inner steel plates creating a burglary resistant structure enclosing a unique proprietary fire resistant material.
Three massive 1" diameter solid steel chrome-plated locking bolts.
A full length dead bar locks deep into the body preventing door removal during a forced entry attempt.
U.L. listed Group II lock with spring-loaded auxiliary relock device.
1/4" heavy duty carburized hard plate.
Heavy duty steel hinges provide easy smooth door operation.
One recessed anchor bolt hole and mounting hardware are provided to securely anchor safe.
Attractively accented with a large chrome-plated dial, matching handle and a plush velour interior.
Durable and attractive granite finish or sandstone textured with a plush velour interior.

Optional high-gloss finishes available.

Optional electronic locks are available.
Optional storage cabinets available on models BF3416 and BF1716.
---
Model Specifications:
| | | | | | | |
| --- | --- | --- | --- | --- | --- | --- |
| BF1512 | 15 x 12 x 13 | 20-1/4 x 17-1/4 x 18-3/4 | 15 x 12 | 2,340 | 288 | 1 |
| BF1716 | 17 x 16-1/2 x 16 | 22-1/4 x 21-3/4 x 21-3/4 | 17 x 16-1/2 | 4,488 | 412 | 1 |
| BF2116 | 21 x 16-1/2 x 14-1/2 | 26-1/4 x 21-3/4 x 20-1/4 | 21 x 16-1/2 | 5,024 | 476 | 1 |
| BF3416 | 34 x 16-1/2 x 16 | 39-1/4 x 21-3/4 x 21-3/4 | 34 x 16-1/2 | 8,976 | 690 | 2 |
Specifications for Amsec AMSBF3416-LTE-GR-ESL10
Other Specs
| | |
| --- | --- |
| Alternate Codes | BF3416-LTE-GR-ESL10 |
| Burglary Rating | UL RSC Residential Securrity Container |
| Category | Burglary & Fire Safes, Safes |
| Dimension Inside | 34 x 16-½ x 16 |
| Dimension Outside | 39-¼ x 21-3/4 x 21-3/4 |
| Fire Rating, Minute | 60 |
| Lock Type | ESL10 Electronic Keypad Lock |
| Safe Category | Fire Rated Burglary Safes |
| Shelf Number | 2 |
Other Finishes for AMSBF3416-LTE-GR-ESL10