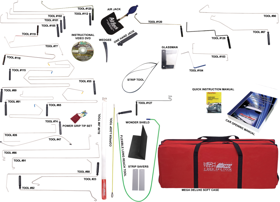 Super Combo Complete Set
Part#: ACCAMSC
Hot#: 148318

Available: 6 ( 2 KAN, 2 LA, 2 PHX )

Series Overview
Specifications
Helpful Links
Notice: The info below is not item specific.
Access Tools
---
The Super Combo Complete Set is the most popular lockout set from Access Tools. Using the included Car Opening Manual, all basic car opening procedures are outlined in detail to make lockouts quick and easy. All of the high quality in-the-door tools feature our unique Tool-ID system that aids in locating the correct tool for the job. This set of essential car opening tools, together with the accessories included, will get you into virtually any vehicle on the road today.
* Please note: Our tools are no longer Chrome. Currently our In-The-Door tools are Stainless Steel. While not as shiny as they may have been in past years, they remain of very high quality and rust resistance for extended usability.
Features:
1979-2014 & Early Release 2015 Vehicles
Instructional DVD
Best selling complete set
Tool ID system
High quality in-the-door tools
Best selling accessories included
Heavy duty carrying case
Includes:
2014-2015 Car Opening Manual For Auto And Heavy Truck
Car Opening Instructional DVD
Glassman Tool For Frameless Window Vehicles
One Hand Jack Tool
Air Wedge
Flex Max
Wedgee Wedge
Strip Savers
Wonder Shield
Button Strip Tool
Slim Jim
Power Grip Tip Set
Heavy Duty Mega Deluxe Carrying Case
In-The-Door Tools Included: (Also available individually as replacements)

#23 Horizontal Linkage Tool
#26 Double Tool
#35 Inside Access Tool
#47 S-tool
#65 Small Inside Access Tool
#67 Ford Cable Tool
#74 Mini Inside Access Tool
#77 Thin Hook Door Tool
#81 Inside Access Button Lifter
#82 Drop And Rock Tool
#86 Triple Hook Tool
#88 Double Bend Tool
#89 Long Inside Access Tool
#90 Hook And Bind Tool
#91 Downward Hook Tool
#101 Downward Bend Tool
#102 Upward Bend Tool
#103 Trunk Opener Tool
#104 Truck Tool #4
#105 Handle Pull Tool
#112 Hummer Tool
#115 G-500 Tool
#118 Liberty Tool
#119 Cts Tool
#120 Sterling Tool
#125 In-The-Door Tool
#126 In-The-Door Tool
#127 Small Hook Tool
#128 Downward Bend Tool
#129 Downward Bend Tool
#130 Downward Bend Tool
Specifications for Access Tools ACCAMSC
Other Specs
| | |
| --- | --- |
| Alternate Codes | AMSC |
| Automotive Tools | Car Opening |
| Category | Automobile Lockout Tools, Automotive, Locksmith Equipment, Tools |
| Type | Kit |