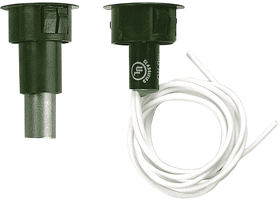 SENTROL CONTACT WHITE 1IN DIA.
Part#: KAL1078-N
Hot#: 139781
Recessed Steel Door Contact W/Wire Leads, White, 1/2in Gap Size in steel, Closed Loop, N.O., 1in dia


Overview
Specifications
Helpful Links
Steel Door Contacts 1078/1076 Series
---
The GE Interlogix 1078 Series Steel Door contacts are designed specifically for use in the steel doors commonly found in commercial building applications. The unique housing design features a rugged unibody construction with flexible ribbed sides for quick, secure installation without gluing. The magnet housing isolates the magnet from the surrounding steel for maximum gap distances, both make and break. Over seven models including: Wide Gap, SPDT, DPDT, and Biased for High Security applications make the 1078 Series the most widely used and comprehensive line available.
An optional Rare Earth Magnet is available. It is designed for use in metal entry/exit doors with a channel in the top of the door. The magnet eliminates the need to cut a mounting hole in the door channel. The flexible magnet housing can be compressed to accommodate a variety of channel widths for quick, easy installation. Adhesive is recommended.
---
Architectural and Engineering Specifications
The contact contains a hermetically sealed magnetic reed switch. The reed shall be potted in the contact housing with a polyurethane based compound. Contact and magnet housing shall snap-lock into a 3/4" or 1" dia. hole. Housings shall be molded of flame retardant ABS plastic. Color of housings shall be off-white, grey or mahogany brown. The magnet shall be made of Alnico V. Rare Earth Magnet shall be made of neodymium iron boron.
Designed for use in Steel Doors
Snap-lock insulation bushing for tight fit and maximum gap in steel.
Both contact and magnet plastic housings are constructed of one piece of thick-walled ABS plastic for maximum strength and durability.
STANDARD FEATURES
Fly leads and terminal options available
Designed specifically for use in steel doors
Special ribbed sides allow for easy installation Rugged unibody construction for maximum durability and reliability
Terminal models available for easier installation
Regular, Wide Gap, SPDT, DPDT, and High Security models available
Rare Earth Magnet designed for steel door with top channel available
SPECIFICATIONS
Form A: (R)1078, 1078W, 1078C, 1078CT, 1078CTW

Voltage: 100V AC/DC max.
Current: 0.5 A max.
Power: 7.5 W max.

Form C: 1076, 1076W, 1076D, 1076C(D), 1076CW, 1076CH

Voltage 30V AC/DC max.
Current 0.25 A max.
Power 3.0 W max.
---
SERIES OPTIONS ORDERING INFORMATION
| | |
| --- | --- |
| 1076CH | Recessed Steel Door Contact w/Wire Leads, 3/4" Diameter, Higher Security, Biased for Higher Security Applications, Single Pole-Double Throw |
| 1076C | Recessed Steel Door Contact w/Wire Leads, 3/4" Diameter, SPDT, 3/8" Gap Size, Single Pole-Double Throw |
| 1076CW | Recessed Steel Door Contact w/Wire Leads, 3/4" Diameter, Wide Gap, SPDT, 3/4" Gap Size, Single Pole-Double Throw |
| 1076D | Recessed Steel Door Contact w/Wire Leads, 1" Diameter, DPDT, 1/2" Gap Size, Double Pole-Double Throw |
| 1076 | Recessed Steel Door Contact w/Wire Leads, 1" Diameter, SPDT, 1/2" Gap Size, Single Pole-Double Throw |
| 1076H | Recessed Steel Door Contact w/Wire Leads, 1" Diameter, High Security, SPDT, Biased for Higher Security, 1/2" Gap, Single Pole-Double Throw |
| 1076W | Recessed Steel Door Contact w/Wire Leads, 1" Diameter, SPDT, Wide Gap, 1" Gap Size, Single Pole-Double Throw |
| 1078C1 | 1078C w/1929 Magnet |
| 1078C | Recessed Steel Door Contact w/Wire Leads, 3/4" Diameter, Closed Loop, 3/8" Gap Size |
| 1078CT | Recessed Steel Door Terminal Contact, 3/4" Diameter, 7/8" Gap Size (3/8" in Steel) |
| 1078CTW | Recessed Steel Door Terminal Contact, 3/4" Diameter, Wide Gap, 2" Gap Size (3/4" in Steel) |
| 1078CW | Recessed Steel Door Contact w/Wire Leads, 3/4" Diameter, Closed Loop, Wide Gap, 3/4" Gap Size |
| 1078 | Recessed Steel Door Contact w/Wire Leads, 1" Diameter, 1/2" Gap Size, Closed Loop |
| 1078W | Recessed Steel Door Contact w/Wire Leads, 1" Diameter, Wide Gap, 1" Gap Size, Closed Loop |
| 1078WN-3.3K | Recessed Steel Door Contact w/Wire Leads, 1" Diameter, Wide Gap, 3.3K Ohm Resistor, 1" Gap Size. Closed Loop, White |
| R1078 | Mini-Max Recessed Steel Door Contact w/Wire Leads, 1" Diameter, 1/2" Gap Size |
FINISHES
» N : White
» M : Brown
» G : Gray
Specifications for GE Security KAL1078-N
Other Specs
| | |
| --- | --- |
| Alternate Codes | 1078-N, 1078N, 139781, ARL1078C, ARL1078N, IML1078WHITE, KAL1078-W, KAL1078N |
| Color | Off-White |
| Mounting | Flush Mount |
| Sensor Type | Door Contact |
| Size | 1" |
| Voltage | 100V AC/DC MAX |