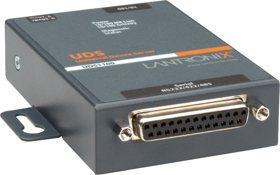 LANTRONIX ETHERNET CONVERTER
Part#: KMJUDS-1100
Hot#: 142403
Overview
Specifications
Helpful Links
Lantronix UDS1100 (120 VAC power supply)
---
The UDS1100 is a single-port device server that provides a quick, simple, and cost effective way to bring the advantages of data accessibility and remote management to devices not currently connected to a network.
The Com Port Redirector software included on the product CD simplifies the integration process by extending the functionality of COM-port-based Windows™ applications. Virtual COM ports, mapped to remote device servers on the network, can replace direct serial connections.
The UDS uses the Internet Protocol (IP) for network communications and the Transmission Control Protocol (TCP) to assure that no data is lost or duplicated and that everything sent to the connection arrives correctly at the target.
---
FEATURES

UDS1100 can be set up locally through its serial port, or remotely using Telnet or a web browser. The included DeviceInstaller™ Windows-based configuration software simplifies setup and provides an easy way to:
Assign IP & other network specific addresses
Load custom web pages
Enable web-based configuration of the device server
Ping or query the attached device(s) over the network
View specific device data files
Upgrade firmware
Specifications for Lantronix KMJUDS-1100
Other Specs
| | |
| --- | --- |
| Alternate Codes | 051-507972, 051507972, 142403, KMJUDS1100, UDS-1100, UDS1100 |
| Function | Ethernet Converter |