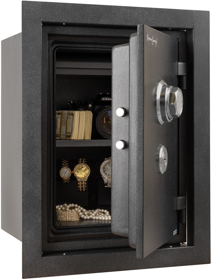 WALL SAFE 1 HOUR FIRE 106LB
Part#: AMSWFS149
Hot#: 143452
Mfg: Amsec
Inside H 14-3/4in x W 8-3/4in x D 10in Outside H 19-1/2in x W 14in x D 15-5/16in Door Opening 14-3/4in x 8-3/4in Drawer Shelf: 1


Overview
Specifications
Helpful Links
American Security WFS149 Wall Safes
---
AMSEC WALL SAFES are designed to provide hidden protection for documents and miscellaneous valuables. Each wall safe is also designed for easy installation between 16" o/c wall studs. Pre-drilled anchor holes and a built-in flange eliminates unnecessary replastering.
---
FEATURES
When fire is a concern, there is no better wall safe than the WFS149 or WEST149.
UL Listed one hour fire rating, insuring the inside temperature never exceeded 350° F (paper chars at 450° F).
Extra deep interior, with one (1) convenient drawer shelf.
Combo lock with key operated side-locking mechanism incorporating one chromed locking bolt.
Each safe is equipped with side locking boltwork mechanism incorporating 1/2" steel deadbolts.
Impressive 1/2" thick door with attractive two-tone Sage finish.
---
SERIES SPECIFICATIONS
| | | | | | |
| --- | --- | --- | --- | --- | --- |
| WS1014 | 10 x 13-3/4 x 3-1/2 | 12-1/4 x 15-3/4 x 4 | 9-5/8 x 12-3/4 | 481 | 20 |
| WFS149 | 14 x 8-1/2 x 10-5/8 | 19-1/8 x 13-1/2 x 15-3/4 | 14 x 8-1/2 | 1258 | 106 |
| WFS149E5LP | 14 x 8-1/2 x 10-5/8 | 19-1/8 x 13-1/2 x 15-3/4 | 14 x 8-1/2 | 1258 | 106 |
| WS1214E5 | 12 x 13-1/2 x 5-1/2 | 12-5/8 x 14-1/8 x 10 | 10-3/4 x 11-1/8 | 891 | 86 |
| WEST2114 | 21-1/8 x 13-3/4 x 2-7/8 | 22-1/4 x 15 x 4 | 19-1/4 x 10-1/4 | 733 | 31 |
Specifications for Amsec AMSWFS149
Other Specs
| | |
| --- | --- |
| Alternate Codes | 143452, WFS149 |
| Inside Dimension: | 14 x 8-1/2 x 10-5/8 |
| Lock Type | Dial Combination |
| Outside Dimension: | 19-1/8 x 13-1/2 x 15-3/4 |
| Safe Rating | UL Listed |
| Safe Type | Wall Safe |
| Weight | 106 lb |