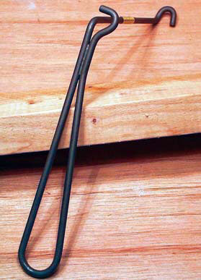 Directional Tool Flex Bit
Part#: LSD61-000/AT7
Hot#: 112014
Contact an IML Representative for Details
This directional tool is a must for angle drilling with any type of flexible shaft drill or extension. TWO loops to hold and control the bit. Unlike others you've seen in the past, this one works!


LSDI All-Tool-Mate™ Core Tools

Our All-Tool-Mate™ Kits are pre-configured to provide popular installation tool combinations used in professional low-voltage wire and cable installation applications. These Kits provide a convenient and money saving solution for updating your tools or provisioning new installation vehicles in your fleet.
Purchasing a kit will save you up to 20% off the price of the same tools when priced individually. You can find detailed descriptions of each tool using the part name and page number reference following each tool listing. The All-Tool-Mate™ Kits are available in four different configurations, each having the All-Tool-Mate™ Core Tools shown below plus additional tools as listed under the description of each kit configuration.
All-Tool-Mate™ Core Tools:
part no. 57-112 Multi-scanner Pro Stud Sensor
part no. 82-118 Grabbit™ 18ft. Fiberglass Telescoping Pole
Rubber end caps for Grabbit™ pole sections (allows you to create shorter poles using Grabbit sections)
part no. 84-214 4ft. Luminous Push/Pull Rod
part no. 85-124 Wet Noodle and Retrieval Kit
part no. 84-547 10-Pack of Reference Bits
part no. 61-516 6ft. Extension for 3/16" Shaft
part no. 61-526 6ft. Extension for 1/4" Shaft
part no. 61-000 Directional Tool for Flexible Extensions
part no. 52-400 All-Tool-Mate™ Ballistic Nylon Organizer Case
Specifications for Labor Saving Devices LSD61-000/AT7
Specifications
| | |
| --- | --- |
| Category | Access Control, CCTV Products, Installation Tools & Accessories, Locksmith Equipment, Specialty Tools & Accessories, Tools, Wire & Power Supplies |
| Type | Guide Tool |
Other Specs
| | |
| --- | --- |
| Alternate Codes | 112014, 61-000/AT7, 61000AT7 |