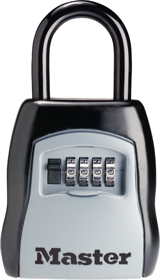 Portable with Shackle Key Storage Box (Hangs Over Door Knob), 4-Dial Combo, Holds up to 5 Keys, No Key Fobs
Part#: MAS5400D
Hot#: 131704

Available: 99+ ( 99+ DEN, 90 KAN, 99+ LA, 34 LV, 32 PHX, 47 SEA, 91 SLC, 79 STX )

Portable Key Storage Product; Set-Your-Own Combination.


Series Overview
Specifications
Like Items
Notice: The info below is not item specific.
Master Lock Portable Lock Box
---
Portable Lock Box features a 3-1/4in (83mm) wide metal body for durability. The portable design offers removable "over the knob" installation. Set your own 4-digit combination for keyless convenience and increased security. The shutter door protects combination dials from weather, dirt and grime; and molded body and vinyl coated shackle prevent scratching.
Features:
Over the door knob design for portable installation
Large internal cavity prevents jamming, even when holding multiple keys
Set your own combination convenience for optimal security
Set your own 4-digit combination for keyless convenience and increased security
Protective weather cover prevents freezing and jamming
Molded body and vinyl coated shackle prevent scratching
Internal Dimensions: 3-1/2in (89mm) H x 2-3/4in (70mm) W x 1in (25mm) D
Specifications for Master Lock MAS5400D
Other Specs
| | |
| --- | --- |
| Alternate Codes | 131704, 5400D |
| Category | Key Boxes, Safes |
| Depth | 1-1/2" |
| Door Application | Key Boxes |
| Height | 6-1/4" |
| Interior Depth | 1" |
| Interior Height | 3-1/2" |
| Interior Width | 2-3/4" |
| Key Capacity | 5 |
| Lock Box Style | Portable Lock Box |
| Lock Box Type | Resettable, Combination |
| Material | Metal, Molded |
| Packaging | Retail Carded |
| Shackle Clearance | 1-13/32" |
| Shackle Diameter | 13/32" |
| Shackle Material | Vinyl-Clad, Steel |
| Shackle Width | 1-7/8" |
| Weatherproof | Yes |
| Width | 3-1/4" |