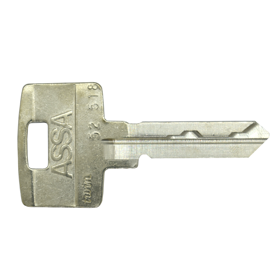 Twin 6000 Key Blanks 52 Profile
Part#: ASA867091-52-518
Hot#: 144867

Available: 99+ ( 99+ KAN, 99+ LA, 99+ PHX, 99+ SEA, 99+ SLC, 99+ STX )

Series Overview
Specifications
Notice: The info below is not item specific.
Assa Abloy Inc. Twin 6000 Key Blanks
---
All ASSA keys are manufactured from the highest quality nickel silver material. The key's rounded back facilitates smooth operation and minimizes wear. The large key bow simplifies identification and use by manually impaired people. Available in several profiles ASSA high security keys all feature a unique side milling on the lower portion of the key blade which is precut at the ASSA factory. Each side milling represents a proprietary key section that is factory controlled on a geographic basis providing an unmatched level of patented key control.
Features:
Two sets of key cuts designed to operate independent locking mechanisms.
Innovative key design protected by U.S. and international patents.
Patented key control offers the ultimate in high security.
Top cuts can be generated on standard, quality code cutting equipment.
ASSA's generous keying capabilities allow over 160,000 change keys under a single master key.
Certification: Maximum+ key listed under U.S. Patent number 8,205,473.
Specifications:
High quality nickel silver material.
Key combination is read from tip to bow.
No. 1 cut is deepest, No. 9 is shallowest.
Maximum adjacent cut is 5.
Cut depth is measured as root depth from back of key to bottom of cut.
Warranty:
ASSA warrants that if a key should break under normal usage, ASSA will replace it at no charge.
ASSA warrants that no other top level master key for any other ASSA factory generated master key system will operate as a top level key in an end-user's system for a specified geographic territory.
ASSA's patented key systems are legally protected against unauthorized key duplication.
Specifications for Assa Abloy Inc. ASA867091-52-518
Other Specs
| | |
| --- | --- |
| Alternate Codes | 144867, 867091-52-518, 86709152518 |
| Category | Domestic & Foreign, High Security Locks, Key Blanks, Key Blanks & Accessories |
| Keyway | Assa Twin 52 |
| Manufacturer | ASSA Abloy |
| Series | Twin 6000 |
| Supplier | ASSA |