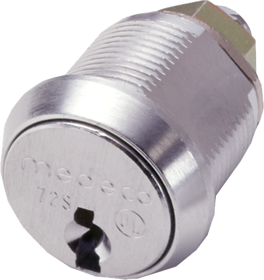 M3 Cam Lock Kit 7/8in, 5-Pin, DL Keyway, Pinned with 2 Keys, Satin Chrome 26
Part#: MED600350T-KIT-T-26-DLT
Hot#: 139225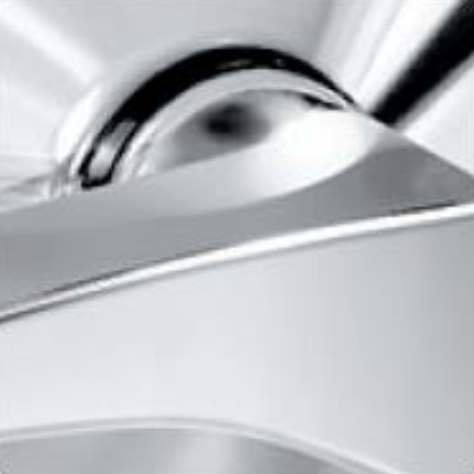 Finish:
Bright Chrome

Available: 65 ( 9 DEN, 25 LA, 1 SEA, 30 SLC )

All-in-One Cam Lock Kits include: CP-040500 pronged washer, CT-A05 flat cam, CT-D05 flat cam, CT-J01 offset cam, CT-H07 offset cam,CP-040451 90 degree stop washer, CP-040461 180 degree stop washer CP-050060 3/4in - 27 mounting nut and 2 keys.


Series Overview
Specifications
Notice: The info below is not item specific.
Medeco Cam Locks
---
The unique Medeco³ design provides triple locking action, creating extensive keying and master-keying capabilities while making the locks virtually pick proof. All Medeco³ keys and locks are protected under patent, trademark, and copyright laws. Medeco³ keys may only be duplicated by Medeco® or by a Medeco® authorized sales outlet, and only at your request.
CERTIFICATION
• UL 437 Listed
---
FEATURES
UL listed for physical security (solid brass with security insert)
Non-UL Listed models available (solid brass construction without security inserts)
Products can be keyed alike and master keyed with similar Medeco3 products
UL products provide added drill protection
Available in Removable Core format
Available in custom finishes (Standard finish is 26D Brushed Chrome)
Available with multiple key pulls
BENEFITS
Medeco cam locks are constructed of durable machined brass for lasting performance
Stainless steel and hardened components inside the cylinder provide strong protection against drilling and other forms of physical attack.
The unique Medeco³ high security technology is virtually pick proof.
Patented Medeco³ keys may only be duplicated by Medeco® or an authorized Medeco® service outlet, and only at your request.
Medeco³ Cam Locks are completely serviceable, and can be re-keyed in case of lost or stolen keys.
Medeco³ Cam Locks can be keyed and master-keyed with similar Medeco³ products. (10 series products may be keyed into existing 60 series systems, contact the factory for details.)
Locks can be keyed alike, keyed different, or master keyed depending on your specific needs.
Available in all standard lengths, key retained or not, one or two flat, and various rotations.
Custom sizes and variations available, contact the factory for more details.
---
TECHNICAL INFORMATION
Three, four, and five pin models available depending on size.
Available in standard sizes from 7/16 inch to 2 inch.
One and two flat models available, key retaining or multiple key pulls.
Clockwise or counterclockwise rotation, 90 or 180 degrees.
Available keyed alike, keyed different, or master keyed (four and five pin models) available.
APPLICATIONS

Medeco3 Cam Locks can be used in any standard 3/4 inch diameter application and a multitude of markets including:
» Safes
» Communication equipment
» Alarm panels
» Access control equipment
» Banking applications
» Public utility
» Data Encryption devices
» Cabinets
» Transit equipment
» Lockers
» Furniture
» Parking equipment
» Vending machines
» Pay telephone
» Custom OEM
---
FINISHES
» 26 brushed chrome finish standard.
» Other finishes available, depending on volume.
Specifications for Medeco High Security Locks MED600350T-KIT-T-26-DLT
Other Specs
| | |
| --- | --- |
| Alternate Codes | 139225, 600350T-KIT-T-26-DLT, 600350TKITT26DLT, 60T0350T-DL-KD, 60T0350T-KIT-26-DLT-KD, 60T0350TDLKD, 60T0350TKIT26DLTKD, MED600350T-KIT-T-26-DLT, MED60T0350T-DL-KD, MED60T0350T-KIT-26-DLT-KD, MED60T0350TDLKD |
| Category | Cabinet Locks, Cam & Drawer, Cam & Drawer Locks Etc., High Security Locks, Lock Sets |
| Cylinder Type | 5-Pin |
| Finish Code | 26 |
| Finish Color | Bright Chrome, Polished Chrome, Satin Chrome |
| Keyway | DL |
| Manufacturer | Medeco High Security |
| Restricted Keyway | No |
| Series | 60 Series, Medeco3 |
| Size | 7/8" |