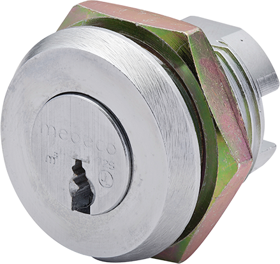 Biaxial Car Wash Lock, G8 Keyway, Sub-Assembled, Satin Chrome 26
Part#: MED640550AT-W-26-G8S
Hot#: 114814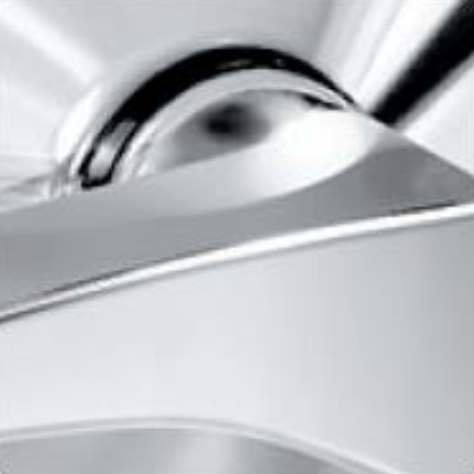 Finish:
Polished Chrome
Contact an IML Representative for Details
All-in-One Cam Lock Kits include: CP-040500 pronged washer, CT-A05 flat cam, CT-D05 flat cam, CT-J01 offset cam, CT-H07 offset cam,CP-040451 90 degree stop washer, CP-040461 180 degree stop washer CP-050060 3/4in - 27 mounting nut and 2 keys.


Medeco Removable Plug Locks
---
Medeco® offers two models of Removable Plug Locks that allow access to internal latching mechanisms with 90 degree rotation and withdrawal of the cylinder plug. Specifically designed for vending equipment, money changers and fare collection systems. The 64W0550 Series is recommended in any high risk application where equipment is susceptible to forced entry and vandalism.
Models are available to fit recessed mounts or surface mounts. Available in a brass or hardened steel shell for applications prone to the most abusive forms of physical attack.
The Medeco3 unique design provides triple locking action, making the locks virtually pick proof. All Medeco³ keys and lcoks are protected under patent, trademark and copyright laws. Medeco³ keys may only be duplicated by Medeco® or by an authorized Medeco® dealer, and only at your request.
---
FEATURES
All Medeco® cylinders are constructed of durable machined brass components, designed to last the life of your equipment.
Special angle cut keys are patent protected to guard against unauthorized duplication.
Unique elevating and rotating pin tumbler system is virtually pickproof.
Patented Medeco³ keys may only be duplicated by Medeco® or an authorized Medeco service outlet, and only at your request.
Locks can be keyed alike, keyed different, or master keyed depending on your specific needs.
TECHNICAL INFORMATION
Available in a 5 pin version.
Shell comes in a hardened steel or brass finish
Shell head may be either tapered or square.
APPLICATIONS

Effective for applications prone to the most abusive forms of attack.
» Vending Equipment
» Money Changers
» Fare Collection Systems
---
FINISHES
» 26 brushed chrome finish standard.
» Other finishes available, depending on volume.
Specifications for Medeco High Security Locks MED640550AT-W-26-G8S
Other Specs
| | |
| --- | --- |
| Alternate Codes | 114814, 640550AT-W-26-G8S, 640550ATW26G8S, 64W0550AT-26-G8S, 64W0550AT-G8S, 64W0550AT26G8S, 64W0550ATG8S, MED640550AT-W-26-G8S, MED64W0550AT-26-G8S, MED64W0550AT-G8S |
| Category | Cabinet Locks, Cam & Drawer, Cam & Drawer Locks Etc., High Security Locks, Lock Sets |
| Cylinder Type | 5-Pin |
| Finish Code | 26 |
| Finish Color | Polished Chrome, Satin Chrome |
| Keyway | G8 |
| Manufacturer | Medeco High Security |
| Restricted Keyway | No |
| Series | 64 Series |
| Size | 1-1/8" |