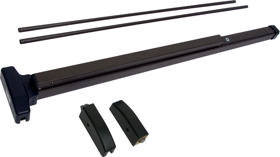 48in, Surface Vertical Rod, Exit Only, Panic Device, 3788 & 2130 Strike, Hex Dogging, Grade 1, SP313/695 Dark Bronze Painted
Part#: FAL19V-EO-SP313-48X84
Hot#: 115598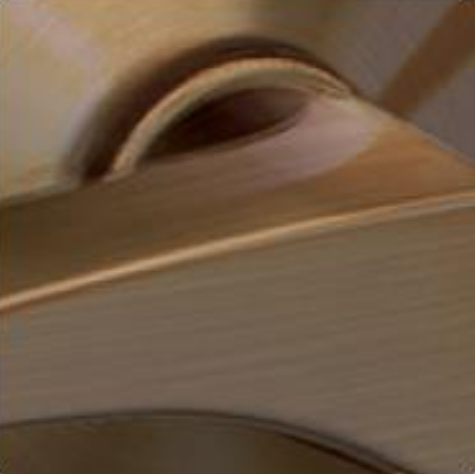 Finish:
Dark Bronze
This Field reversible device covers a 161 cutout and may be used on 1-3/4in narrow stile aluminum doors.


Overview
Specifications
Helpful Links
Falcon 19-V Series Reversible Vertical Rod Exit Device
---
Manufactured to the same exacting standards as the 19 Rim, the 19-V Exit Device complies with most exit door requirements, and is fully reversible and surface applied. This device is regularly furnished with deadlocking top latch with latch retention and square bolt at bottom. The "EO" (Exit Only) device is ready to accept any trim function shown on the Styles tab.
---
SPECIFICATIONS
Hand: Field reversible
Functions: All functions built into "EO" device. All 19 Series trim works with rim or vertical devices.
Finishes: Powder-coated aluminum-SP28; powder-coated duranodic-SP313; stainless steel US-32D
Strikes: 3788 strike is surface applied standard, 2130 strike is mortised into floor
Angle Bracket: Use 4215 angle bracket in flush transom or rabbeted installations. Allows use of standard 3788 strike.
Latchbolt: Top stainless steel 3/4" throw. Bottom square bolt 1/2" throw
Deadlocking Latchbolt: Standard
Dogging Feature: 1/2 turn hex dogging standard. No threaded parts to wear out.
Cylinder Dogging: Specify "CD" prefix. Use 1-1/8" long mortise cylinder with standard "A" cam
Stock Sizes: 3'0" and 4'0".
Doors: 1-3/4" thick, wood or metal. Specify thickness if other than 1-3/4".
Narrow Stile Doors: To 1-3/4" N.S. aluminum. With control trim–2 1/4" min. stile.
Projection: 2-1/2" max., 1-7/8" dogged
Electric Function: Can be interfaced with building security systems. Security monitoring, electric dogging, exit indicator, and exit alarm available.
Fasteners: All mounting screws are concealed. Furnished with sheet metal screws. Machine screws available, specify AMS.
Sex Bolts: 3- #4122 (1/4 -20) SNB standard. Hollow core wood, light gauge Hollow Metal, etc. require additional sex bolts. 19-V: 6-#2729 #10-24 SNB; 19-V-LBR: 3-#2729 #10-24 SNB
ANSI: Certified ANSI A156.3 2001 Grade 1 standards
19-V: Latch retention and 3788 strike top, deadbolt and 2130 flush strike bottom
19-V-LBR: 3788 strike top
Vertical Rods: Furnished to length based on 40-5/16" horizontal CL from finished floor and a 7'0" door standard. Variations from these standards must be specified when ordering
Shim Kit: For glass lites applications; 1/4" thick specify SK-19-V-1/4"
161 Cutout: Device covers 161 cutout with KIK/KIL and Centron trims. Other trim requires cover plate.
DOOR APPLICATION
| | | |
| --- | --- | --- |
| 19-V-EO | 2 or 5 | 1 |
| 19-V-DT | 2 or 5 | 2 |
| 19-V-NL | 2 or 5 | 3 |
| 19-V-TP | 2 or 5 | 5 |
| 19-V-TP-NL | 2 or 5 | 6 |
| 19-V-K (or L) | 2 or 5 | 8 |
| 19-V-K-NL (or KIL) | 2 or 5 | |
---
FINISHES:
Specifications for Falcon Lock FAL19V-EO-SP313-48X84
Specifications
| | |
| --- | --- |
| Bar Style | Push Bar |
| Dogging | Hex Key |
| Door Type | Metal, Wood |
| Door Width | 48" |
| Exit Device Type | SVR - Surface Vertical Rod |
| Finish Color | Dark Bronze |
| Function | Exit Only |
| Handing | Non-Handed |
| Series | 19-V Series |
| Supplier | Falcon |
Other Specs
| | |
| --- | --- |
| Alternate Codes | 115598, 19V-BAM13LG, 19V-EO SP313 4070, 19V-EO-SP313-48X84, 19V-EOSP313 4FT, 19VBAM13LG, 19VEOSP3134070, 19VEOSP31348X84, 19VEOSP3134FT, 911131, FAL19V-EO SP313 4070, FAL19V-EOSP313 4FT |