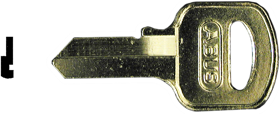 Abus Original Fits 54TI/30 or 54TI/35
Part#: ABU55/30
Hot#: 100667

Available: 73 ( 20 DEN, 6 LA, 30 SEA, 17 SLC )

Series Overview
Specifications
Notice: The info below is not item specific.
Abus Brass 55 Series Padlock
---
The Brass 55 padlock offers a basic protection. This lock in sizes 25 - 35 mm is used to secure bags, luggage, caskets, cash boxes, etc. and in sizes 40 - 60 mm it is used to secure doors, gates, cabinets, lockers, tool boxes, cellar windows, sheds, switchgears, etc. The padlock 55 features a body made from solid brass and a shackle made from hardened steel. The 55 is self-locking: The padlock is locked automatically by pushing down the shackle - no key is needed for locking.
---
FEATURES
Body made of solid brass
Shackle made of hardened steel
Inner components made of non-corrosive materials
Precision pin tumbler
Sizes: 15/16", 1-9/64", 1-1/2", 1-7/8", 2-9/32"
Additional Shackle Lengths: 2-1/2"
Specifications for Abus Lock Company ABU55/30
Other Specs
| | |
| --- | --- |
| Alternate Codes | 100667, 54TI/30KB, 54TI30KB, 55/30, 55/30KB, 5530, 702126, ABU54TI/30KB, ABU55/30KB |
| Body Width | 1-1/8" |
| Category | Domestic & Foreign, Key Blanks & Accessories |
| Cylinder Type | 3-Pin Cylinder |
| Padlock Style | Rectangular Lock |
| Padlock Type | Keyed Lock |
| Shackle Clearance | 1/2" |
| Shackle Diameter | 3/16" |
| Supplier | Abus |