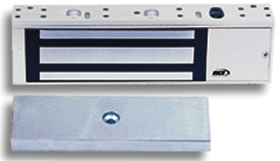 1500LB MULTIMAG 12/24VDC ALUMINUM
Part#: RCI8310-28
Hot#: 123017
Electromagnetic MultiMag Lock, Single Magnet, 1-5/8in D x 2-7/8in W x 10-1/2in L, 12/24VDC, Brushed Anodized Aluminum finish. Holding Force One-Point Locking Up To 1500lb.


Overview
Specifications
Helpful Links
Accessories
RCI 8310 Multi-Purpose Electromagnetic Lock
---
These hard-working multi-purpose electromagnetic locks enhance building security and install quickly.
Several standard features make these magnets the "workhorse" of the industry. The adjustable mounting bracket has been enhanced with keyhole mounting to support the magnet's weight during initial installation, freeing the installer's hands to affix the magnet mounting screws. The removable cavity cover offers quick, easy access to wiring.
These models feature a built-in, adjustable time delay with instant unlock and de-layed relock (up to 110 seconds), which can be controlled by any standard switching device.
INTERIOR OR PERIMETER APPLICATIONS
» Single outswinging doors
» Single inswinging doors (use with Z bracket)
» Government Facilities
» Office Complexes
» Warehouses
» Retail
» Commercial
» Industrial
» Health Care
---
STANDARD FEATURES
Larger (Right Angled) LED size for better visibility (SCS versions only)
Built-in time delay (instant release with adjustable relock, programmable from 0-110 seconds)
Field selectable voltage - 12/24VDC
MOV surge protection
No residual magnetism
Low energy consumption
Hardened steel armature nut
Brushed Anodized Aluminum or Brushed Adonized Dark Bronze finish
Adjustable keyhole mounting
Convenient plug-in wiring terminals
Easy access wiring cavity
Encapsulated 4-bolt "Drop-Stop" mounting
Self-drilling tek™ fasteners
FUNCTIONAL DESCRIPTIONS
Security Condition Sensor (SCS)

Electronic field presence sensor for remote and local LED indication of lock status (locked or unlocked), reduced holding force caused by materials between magnet and plate, and unlocked device due to current loss.



Door Status Sensor (DSS)

Glass magnet-reed type sensor for remote indication of door status (opened or closed, independent of local power); magnet embedded in armature for tamper resistance; reed switch inside electronic housing cavity for easy access.



LED Indicator

Included on SCS options, the LED gives a local indication of lock status: red - unsecured; green - secured.



Low-Voltage Detection (SCS version only)

Low voltage dramatically reduces electromagnetic lock holding force. This detection feature signals the SCS relay/LED to activate (alarm) when voltage drops below 10.3 VDC (12V input) or 20.5 VDC (24V input).
---
HOUSING DIMENSIONS
» 1-5/8" D x 2 -7/8" W x 10-1/2" L (41.3mm x 73.0mm x 266.7mm), includes 1/4" (6.4mm) mounting bracket.
SERIES MODELS
| | | | | |
| --- | --- | --- | --- | --- |
| 8310 x 28 | Single Magnet | 1-5/8"D x 2-7/8"W x 10-1/2"L | 12/24VDC | 28 |
| 8310 x 40 | Single Magnet | 1-5/8"D x 2-7/8"W x 10-1/2"L | 12/24VDC | 40 |
| 8310 x DSS x 28 | Single Magnet with DSS | 1-5/8"D x 2-7/8"W x 10-1/2"L | 12/24VDC | 28 |
| 8310 x DSS x 40 | Single Magnet with DSS | 1-5/8"D x 2-7/8"W x 10-1/2"L | 12/24VDC | 40 |
| 8310 x SCS x 28 | Single Magnet with SCS | 1-5/8"D x 2-7/8"W x 10-1/2"L | 12/24VDC | 28 |
| 8310 x SCS x 40 | Single Magnet with SCS | 1-5/8"D x 2-7/8"W x 10-1/2"L | 12/24VDC | 40 |
| 8310 x DSS/SCS x 28 | Single Magnet with DSS/SCS | 1-5/8"D x 2-7/8"W x 10-1/2"L | 12/24VDC | 28 |
| 8310 x DSS/SCS x 40 | Single Magnet with DSS/SCS | 1-5/8"D x 2-7/8"W x 10-1/2"L | 12/24VDC | 40 |
DSS - Door Status Sensor (Retrofit Kits Available)
SCS - Security Condition Sensor with LED
DSS/SCS - Door Status Sensor / Security Condition Sensor Combination with LED
FINISHES
» 28 - Brushed Anodized Aluminum
» 40 - Brushed Annodized Dark Bronze
Specifications for Rutherford Controls RCI8310-28
Other Specs
| | |
| --- | --- |
| Alternate Codes | 123017, 8310 X 28, 8310-28, 831028 |
| Finish Color | Satin Chrome |
| Holding Force | 1500 lbs |
| Maglock Type | Single Door |
| Mounting | Surface Mount |
| Options | Instant Unlock, MOV Surge Protection, Time Delay |
| Size | 1-5/8" x 2-7/8" x 10-1/2" |
| Voltage | 12V DC, 24V DC |
Accessories for RCI8310-28