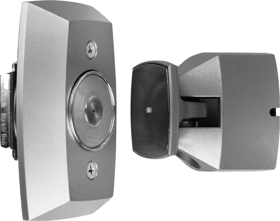 Wall Mount Mag Holder. Requires Outlet Box. Total Projection 3-5/8in.
Part#: RIX998M 689 TRI VOLT
Hot#: 117041

Finish:
Aluminum Powder Coated
Total Projection: 3-5/8in. Mounting Requirements: 2in x 4in x 1-3/4in outlet box. Wall must be properly reinforced and outlet box adequately fastened. UL listed door holder. (Same as 998M)


RIXSON Electromagnetic Door Holders
---
Electromagnetic door holder/releases are designed for virtually any remote door release applications. They must be used in conjunction with closing devices. All Rixson electromagnetic door holder/releases are in compliance with ANSI/BHMA A156.15 Standards.
All electromagnetic door holder/releases shall be supplied by architectural hardware supplier. All units shall have a single coil to accommodate 12VDC, 24VAC, 24VDC and 120VAC. The coils shall be independently wound, employing a fuse. Armatures will have positive release button.
Fire/smoke barrier doors:
- Door releases when tripped by an alarm or smoke detector
Private offices:
- Door releases when triggered by a remote switch
All devices come with a wall/floor portion and a door portion (armature)
Circuit normally closed
Door portions have screws and plates to accommodate surface and concealed mounting
STANDARD FEATURES
All units UL/ULC listed
All units listed by California State Fire Marshal
25 to 40 pounds holding power, except where noted
Fail-safe operation; power failure releases door to close
Positive release button initiates closing motion
Total Projection: 3-5/8"
Mounting Requirements: 2" x 4" x 1-3/4" outlet box
Wall must be properly reinforced and outlet box adequately fastened.
---
MODEL 998
Applications

Wall Mount
Concealed Wiring
ANSI/C00011



Product Description and Features

Total Projection: 3-5/8" (92mm)
Mounting Requirements: 2" x 4" x 1-3/4" (51 x 102 x 45mm) outlet box
Wall must be properly reinforced and outlet box adequately fastened



Technical Information

Voltage and Current:

120VAC, 60Hz., .020 amp
24VAC/DC, 60Hz., .020 amp
12VDC, .040 amp

For 50-55 lbs. of holding force, specify voltage

120VAC, 60Hz .017 amp
24VAC, 60Hz .080 amp
24VDC, .068amp
12VDC, .180amp
240VAC, 50/60Hz. .009 amp

Shipping Weight: 2-1/2 lbs. (1.1 kg)
Specifications for Rixson RIX998M 689 TRI VOLT
Specifications
| | |
| --- | --- |
| Finish Code | 689 |
| Finish Color | Aluminum Powder Coated, EN, Sprayed Aluminum |
Other Specs
| | |
| --- | --- |
| Alternate Codes | 691030, 998 689 TRI VOLT, 998M 689, 998M 689 TRI VOLT, RIX998 689 TRI VOLT |