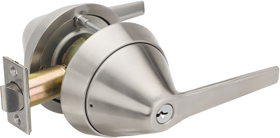 Privacy Anti-Ligature Lever Lockset, 2-3/4in, Grade 1, Stainless Steel US32D/630
Part#: MAR195SSL/32D
Hot#: 172759

Available: 18 ( 6 DEN, 6 KAN, 6 STX )

Latch by either side unless outside lever locked by push-button from inside. Outside unlocks by turning inside lever, or outside emergency turn or closing door.


Marks USA 95 Line Survivor Series
---
The Grade 1 Survivor is supplied with 6 pin cylinders in Marks "C" keyway with 2 nickel-silver keys. The retractor is cast stainless steel with bronze roller bearings for ultra-high strength, smooth operation & long life. When locked, the Survivor's clutch disengages the outside lever allowing it to turn freely without opening the latch. This reduces the torque applied to the outside lever. Other locksets with Rigid levers are prone to failure because of excessive torque.
Withstands torque of 1800 inch-pounds; over twice ANSI/BHMA (1996) test value
Life tested over 6 million cycles; Fully operational after these tests
Thru-bolting with #10 epoxy coated bolts assures vibration-proof mounting
Only two thru-bolts for easy installation
Breakaway handles (American & Crescent design) protect against excessive abuse
Features:
Backset: 2-3/4"; 2-3/8", 3-3/4" & 5" Optional
Latch #1834, Front: 1-1/8" x 2-1/4"; Throw: 9/16"; Stainless steel nose
Levers: Solid cast Zamac w/ 1/2" return
Rose: Thru-bolted, 3-7/16" dia., spring loaded 2-#10 thru-bolts
Strike: #1135, 4-7/8" ASA curved lip
Door thickness: 1-5/8" to 1-7/8" (For 1-3/8" door use K1704 spacer.)
Cylinder: Marks C keyway, 6 pin w/ 2 keys or IC Core housing
Electrified functions - 100% duty cycle, 24V/AC supplied with bridge rectifier; 24V/DC, .21 Amps
12V/DC Optional, Contact factory for additional options
Request to Exit Switch: Single pole, double throw, 3 amp,125 AC, wired either normally open or normally closed (REX Switch is not standard on electrified leverset)
Features "The Clutch"
UL Listed, 3 hour fire rated
Functions:
Passage
Privacy
Patio
Communicating
Entry
Exit
Classroom
Storeroom
Institution
Vestibule
Corridor
Store Door
Hospital/Privacy
Service Station Lock
Classroom Intruder
Dummy Trim Outside
Full Dummy Trim
Communicating Passage
Communicating Storeroom
Communicating Classroom
Specifications for Marks Hardware MAR195SSL/32D
Other Specs
| | |
| --- | --- |
| Alternate Codes | 195SSL/32D, 195SSL32D |
| Category | Commercial Locks, Hospital/Anti-Ligature Lever, Lock Sets |