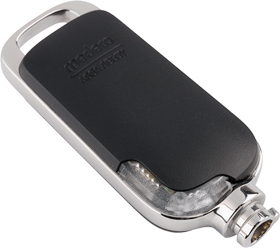 XT Slim Line Key Gen 2 & Charger Bundle, Includes XT Slim Line Key, Charger and USB Cable
Part#: MED94-0271
Hot#: 155650

Available: 99+ ( 99+ DEN )

Series Overview
Specifications
Notice: The info below is not item specific.
MEDECO® XT Intelligent Key System
---
Building on Medeco's 50-year history of creating high security key control products, the Medeco XT Intelligent Key Eco-system takes key systems to a completely new level.
Medeco XT adds security, regulatory compliance and accountability to practically every opening in a fast, efficient way. A Medeco XT Eco-system enhances businesses by providing the valuable data and tools needed to be more profitable or meet compliance requirements.
Overview: The Medeco XT Eco-System consists of a robust electronic locking and access control system that is managed by state-of-the-art web based system software. Medeco XT overcomes current keying issues by keeping security high even if someone loses a key.
Medeco XT also adds access control capability in hard to reach areas such as safes, cabinets, gates (padlocks), etc. In addition, with the new AIM (Access Interface Module) Device, imagination is your only limitation regarding what to control next with your XT key.
---
FEATURES
Audit Accountability:

Audit information recorded in both the lock and key shows a time- and date-stamped record of every event, including authorized accesses and unauthorized attempts.

Uses Existing Hardware:

Medeco XT key provides all power to the cylinder, eliminating the need for any hardwiring or power supply. Simply remove the existing mechanical cylinder and install the Medeco XT cylinder.

Reduces Risk of Lost Keys:

Respond quickly to security threats, lost or stolen keys, or personnel changes without the added cost of changing your locks and keys.

Electronic Scheduling:

Keys are electronically programmed to open only specific locks during a designated schedule. Schedules may also contain an expiration point to completely disable the key until it is audited and reprogrammed.

Medeco Data Dashboard:

System audit data is displayed in a new graphical way on the Medeco dashboard. The 'Glances' display consists of several mini-dashboards that provide insight into your system configuration and audit events.

Data Analytics:

The Visual Audit feature of Medeco XT Web manager software converts audit data into a simple graphic dashboard. Security Administrators can see access trends and irregularities at a glance.
KEY FEATURES:
Small, robust electronic key with stainless steel housing.
Intelligent key holds all access and schedule data.
Rechargeable battery, up to 1,800 openings per charge.
Heavy-duty stainless steel construction.
Stand-alone, network, Web and mobile programming options.
WARRANTY:
Medeco Security Locks warrants Medeco XT products to be free of defects in material and/or workmanship for a period of two (2) years from date of original purchase (except where noted). Extended warranty available at time of purchase.
PRODUCT SPECIFICATIONS: Lock / Cylinder Features:
No wiring required—all power provided by the key.
Indoor / outdoor use—stainless steel shell construction.
2,000 audit events.
Unauthorized key list.
Variety of retrofit cylinder formats.
---
FINISHES
» N/A
Specifications for Medeco High Security Locks MED94-0271
Other Specs
| | |
| --- | --- |
| Alternate Codes | 94-0271, 940271, MED940271 |
| Category | Domestic & Foreign, High Security Locks, Key Blanks, Key Blanks & Accessories |
| Key Type | Medeco XT G2 |
| Manufacturer | Medeco High Security |
| Series | Medeco XT |