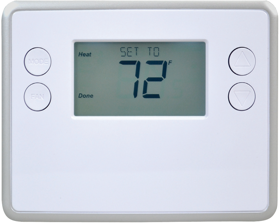 Z-WAVE THERMOSTAT
Part#: 2GIGGC-TBZ48
Hot#: 155360
Overview
Specifications
Helpful Links
2GIG GC-TBZ48 GOControl Battery Powered Z-Wave Thermostat
---
Heating and cooling account for 48% of the energy use in a typical U.S. home, making it the largest energy expense for most households. When set properly for current weather conditions, smart thermostats are estimated to save homeowners an above average 5% to 15" (and sometimes more) off of those energy costs (energy.gov).
The GoControl Battery-Powered Z-Wave Thermostat is one of the easiest smart thermostats to install and is controllable by all Z-Wave hubs, including the 2GIG Go!Control security system. When integrated with the apps that control your Z-Wave hub, lets you adjust your home's HVAC settings from any smartphone or tablet, whether you are sitting in your living room or in a hotel room across the globe.
Using the battery-powered version, low-voltage integrators can connect the thermostat to 95% of HVAC systems without the help of an electrician or HVAC contractor. Its flexible design also allows for the thermostat to be powered by the HVAC systems 24VAC "C" wire, if desired.
---
Operating Requirements:
Replace the existing thermostat by connecting the wires to the corresponding inputs
4 AA batteries or connection to the 24 VAC "C" wire from the HVAC System
Compatibility:
Works with all Z-Wave Hubs, including 2GIG Go!Control security panels.
Also works with:

Alarm.com
Telguard
Uplink
FEATURES
Display: Fixed Format Display with white backlight
Display Options: Heating and Cooling Setpoint display option
System Mode: Off, Heat, Cool, Auto, E-Heat
Fan Mode Display and Control: Auto and On
On-Screen Setup of: HVAC Type, Fan Type, Changeover type for HP systems, F/C mode and sensor calibration
SPECIFICATIONS
Power: Battery or 24V AC powered

Compatible with the vast majority of Central HVAC systems

Z-Wave Frequency: 908.42 MHz
System Compatibility: Central HVAC systems or separate heating / cooling systems with separate RH/RC transformers (split)
Standard Gas/Electric HVAC: 2 stage heating, 2 stage cooling
Heat Pump HVAC: 3 stage heating, 2 stage cooling
Fan System: Selectable for gas or electric heat systems
Heat Pump Change Over Valve (Reversing Valve): Selectable for change over with heat or change with cool (O or B output)
Emergency Heat: In Heat Pump mode, Emergency Heat mode is selectable from the thermostat
HVAC System Protection: Compressor short cycle protection delay of 5 minutes (adjustable)
Operating Temperature Limits: 32° to 122° F (0° to 50° C)
Relative Humidity 5-95% Non-Condensing
Specifications for 2GIG 2GIGGC-TBZ48
Other Specs
| | |
| --- | --- |
| Alternate Codes | 2GIG-TBZ48, 2GIGGC-TBZ48-ISO, GGC-TBZ48, GGC-TBZ48-ISO, GGCTBZ48, GGCTBZ48ISO |
| Part Type | Thermostat |