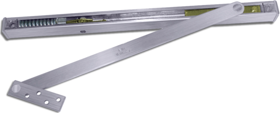 Adjustable Concealed Heavy Duty Overhead Stop
Part#: ABH1023A US32D
Hot#: 178432

Available: 13 ( 1 DEN, 12 SLC )

ABH® 1000A Series Overhead Holders & Stops (1023A)
---
ABH® 1023A: Concealed Mount, Heavy Duty, Adjustable Stop.
Overhead holders and stops are used to prevent unnecessary damage to the door, frame, wall and other door hardware by limiting the degree of door swing. They are installed at the top of a door opening; therefore, out of the general reach and not a tripping hazard. Whether for commercial or residential application, the use of overhead holders and stops extends the life of the opening and other hardware.
---
FEATURES:
Concealed mount.
Heavy duty.
Single or double acting doors.
Non-handed.
For inderior or exterior use on frequent traffic and heavy weight doors.
Degree of opening is field-adjustable after installation from 85° to 110° (5° increments).
Shock absorbing spring provides 3° to 5° cushion before dead-stop.
1-3/4" minimum door thickness.
UL Listed as Miscellaneous Fire Door Accessories for use on wood fire doors rated for up to 90 minutes and metal fire door rated up to 3 hours (stop function only.)
SPECIFICATIONS:
Material: Stainless steel is the standard base material for arm, channel and jamb bracket for all finishes.
Door Frame Opening: 36" - 39-15/16".
ANSI Code: C01541.
---
FINISHES:
US32D - Satin Stainless Steel
US10 - Satin Bronze
US10B - Dark Bronze
US4 - Satin Brass
US32 - Bright Stainless Steel
US3 - Bright Brass
US26D - Satin Chrome Plated
US26 - Bright Chrome Plated
S1 - Painted Aluminum
S2 - Painted Brass
S3 - Painted Satin Bronze
S4 - Painted Black
S5 - Painted Dark Bronze
S8 - Painted White
Specifications for ABH Manufacturing Inc ABH1023A US32D
Other Specs
| | |
| --- | --- |
| Alternate Codes | 1023A US32D, 1023AUS32D, ABH1023A 32D, ABH1023ADJ 32D |
| Category | Door Closers, Overhead Stops/Holders |