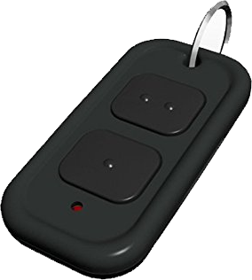 Keychain Transmitter 900Mhz 2 Button
Part#: BEA10TD900HH2
Hot#: 158552
BEA® 900 MHZ FAMILY Long Range Wireless Transmitters And Receiver
---
BEA 900 MHZ FAMILY: compact transmitters and receiver allow wireless activation of any door control. FCC Part 15 certification ensures proper compliance with federal radio frequency regulations.
900 MHz wireless technology provides greater line-of-sight transmission distance than legacy wireless frequencies. It also provides better penetration of obstacles such as walls, partitions, doors or low-emissivity glass.
BEA's 900 MHZ FAMILY series of wireless devices includes the touchless retrofit transmitter for easy upgrade of touch push plates to touchless solutions, which typically require additional wires to be run for installation.
The 900 MHZ FAMILY industrial series offers a line of IP65 rated hand-held transmitters, ideal for industrial environments. This family also has a convenient beltclip accessory.
---
FEATURES:
Signal Strength Indicator: Multi-color LEDs on receiver provide installer with visual notification of signal strength and activation status.
Consistent Transmission: Frequency hopping allows consistent transmission in areas with other 900 MHz devices.
Enhances Accessibility: Offers a means of activation for those with limited mobility or disabilities.
Variety Of Accessories: 1, 2, 3, and 4 button handheld transmitters provide flexibility where multiple receivers are used.
Extended Hold Functionality: Extended hold and toggle/pulse functionality is integrated for various application needs.
Learn Modes: Delay and no-delay learn modes provide either instant or delayed activation for the sequencing of doors.
Applications: Wireless Actuators, Wireless Gate Activation, Limited Mobility, & Multiple Doors Per Transmitter.
SPECIFICATIONS:
Frequency: 908 – 918 MHz (Frequency Hopping).
Radio Control Type: Digital.
Power Consumption:

Standard: 30mA (TX) / 40mA (RX).
Industrial: 13mA (TX) / 40mA (RX).
Retrofit: 22 mA.
Universal: 30mA.

Supply Voltage: 12 – 24 VAC / VDC.
Contact Rating: 1.0 A @ 30 VDC; 0.3 A @ 60 VDC; 0.5 A @ 125 VAC.
Operating Temperature: 14 – 131 °F (- 10 – 55 °C).
Transmitter Capacity (per receiver):

Programmable (standard): 75.
Universal: Unlimited.

LEDs:

Receivers: Red (Receiver learn), Blue (Relay activation), Tri-color (Signal strength).
Transmitters: Red = Transmitting, Red Blinking = Low Battery.

Dimensions:

Standard Handheld: 2-3/4" (W) x 1-19⁄50" (D) x 14⁄25" (H).
Standard Push-Plate Transmitter: 1-3/4" (W) x 1" (D) x 3⁄10" (H).
Industrial Handheld: 1-1/2" (W) x 3" (D) x 1/2" (H).
Retrofit: 1-18/25" (W) x 1-3⁄50" (D) x 8⁄25" (H).
RD900: 2-1/2" (W) x 2" (D) x 3/4" (H).

Norm Conformity: All: FCC, IC Industrial Handheld: IP65.
PRODUCT SERIES:
10RD900: 900 MHz receiver module.
10TD900HHX: 1 – 4 Button standard handheld transmitters.
10TD900INDHHX: 1 – 4 Button IP65 rated handheld transmitters.
10BELTCLIP: Industrial transmitter beltclip accessory.
10TD900PB: 900 MHz hardwired transmitter.
10TD900TR: 900 MHz retrofit transmitter.
10BR2-900: 2-Relay logic module.
10TD900HH1U: Universal transmitter.
---
FINISHES:
» N/A
Specifications for BEA Incorporated BEA10TD900HH2
Other Specs
| | |
| --- | --- |
| Alternate Codes | 10TD900HH2 |