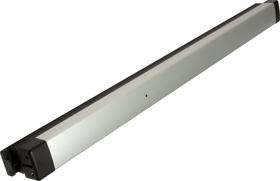 KIT - Narrow Rim Exit Device, Electric (Solenoid) Latch Retraction (EL), Single Monitor Switch (M), Fits Narrow and Wide Stile Aluminum Doors, Aluminum Clear Anodized (628), 36in
Part#: ADR8801EL-M-36-12V
Hot#: 157007
Finish: Clear Anodized

Available: 74 ( 5 DEN, 8 KAN, 11 LA, 12 LV, 13 PHX, 8 SEA, 10 SLC, 7 STX )

Electric Solenoid Latch Retraction w/ Monitor/Signal Switch, Patented Starwheel Bolt interlocks door to frame. Pushbar is anodized or clad, not plated, in a variety of finishes. Unobtrusive design for clean sight lines. Easy to install. Strong, durable co


Series Overview
Specifications
Helpful Links
Notice: The info below is not item specific.
Adams Rite Manufacturing
---
The 8800 Series, Narrow Stile, Starwheel Rim Exit Devices are designed for narrow stile aluminum, hollow metal and wood applications requiring an exit device with a Starwheel interlocking latching solution. Designed for use in applications with single doors or pairs of doors with a mullion.
Features:
Materials: Push bar made of extruded aluminum, clad or anodized in a variety of finishes.
Handing: Device is non-handed.
Push bar Length: Standard sizes: dimensioned for 30"[762.0 mm], 36" [914.4 mm], 42" [1,066.8mm], and 48" [1,219.2 mm] openings. Standard width bars can be field cut to the next smallest opening width.
Door Thickness: Suits 1-3/4" [44.5 mm] standard, up to 2-1/4" [57.2 mm].
Stile Width: Minimum 2" [50.8 mm] stile. Fits narrow, medium, and wide stile aluminum doors.
Projection: 2-5/8" [66.7 mm] when fully projected,1-5/8" [41.3 mm] when dogged.
Dogging: Standard dogging with hex key or optional cylinder dogging. Electric dogging option also available.
Fasteners: Standard machine screws.
Cylinders: Select any standard 1-5/32" [29.4 mm] diameter rim cylinder such as the 8736 Rim Cylinder. Available separately.
Cylinder x Fixed Pull Functions: For function 03 (Night latch - key releases latch) select any standard1-5/32" [29.4 mm] diameter rim cylinder such as the 8736 Rim Cylinder.
Entry Trim Functions: For entry trim function 08 (key locks/unlocks lever) or function 09 (key releases lever) select any standard 1" [25.4 mm] length, 1-5/32" [29.4 mm] diameter mortise cylinder with MS® cam such as the 4036 Mortise Cylinder. Accommodates cylinder lengths from 1" [25.4mm] to 1-1/4" [31.8 mm]. Available separately.
Strike: Standard strike and narrow versions for centering doors in 4"jamb (both strikes included).
Removable Mullion: Allows the use of rim exit devices on paired doors without narrowing the doors. Provides higher security and better traffic flow than paired doors with vertical rod exit devices. 3890 Aluminum Mullion available separately. Select for use with doors up to 8' [2.44 m] or 10' [3.05 m]. Available in 313 Dark bronze anodized or 628 Clear anodized finish.
Finishes:
US3 - Bright Brass
US4 - Satin Brass
US32 - Bright Stainless
US32D - Satin Stainless
Specifications for Adams Rite Manufacturing ADR8801EL-M-36-12V
Other Specs
| | |
| --- | --- |
| Alternate Codes | 8801EL-M-36-12V, 8801ELM-3612V, 8801ELM3612V, ADR8801ELM-3612V |
| Category | Electrified Panic Devices, Panic Devices & Exit Alarms |
| Dogging | Hex Key |
| Door Type | Aluminum |
| Door Width | 36"" |
| Exit Device Type | Electric Latch Retraction, Narrow Stile, Rim Exit |
| Finish Color | Clear Anodized |
| Grade | Grade 1 |
| Handing | Non-Handed |
| Options | Electric Latch Retraction |
| Series | 8800 Series |
| Supplier | Adams Rite |
| Voltage | 12V DC |