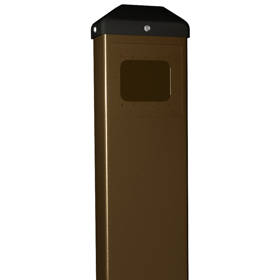 Bollard Post 42in x 6in x 4in Duranodic
Part#: BEA10BOLLARDBRZ
Hot#: 169409

Available: 20 ( 3 DEN, 2 KAN, 4 LV, 5 PHX, 6 SLC )

35lbs, Includes Post and Cap Screws, Bracket with Expansiion Anchors, Washers and Nuts


Series Overview
Specifications
Notice: The info below is not item specific.
BEA Incorporated
---
Bollard Family is designed for mounting push plates, that activate automatic doors, in locations where a mounting surface is not available. This enhances accessibility for those with limited mobility or disabilities.
Features:
Bollards: are compatible with a variety of push plate shapes and sizes, as well as Wireless Transmitters.
Enhances Accessibility: Compatible with most push plate shapes and sizes, Bollards provides a mounting surface for ADA compliant actuators.
Versatile Mounting: Can be mounted either on existing concrete or in newly poured concrete.
Variety Of Styles Available: Available in silver, bronze and black and with or without hole.
Wireless Compatibility: UV-resistant ABS plastic cap allows for transmission when using Wireless Transmitters.
Specifications:
Applications: Wireless Compatibility, Limited Mobility.
Dimensions (HxWxD): 41-1/2" x 6-1/4" x 4-1/4"
Material:

Post: Power-coated, carbon steel (interior and exterior).
Cap: UV-resistant ABS plastic.
Bracket: Stainless steel.

Push Plate Compatibility: 4-1/2" square, 4-3/4" square (including Panther). Dual-vestibule, 4-1/2" round.
Weight: 35 lb.
Color: Black, Bronze or Silver.
Hardware:

Post: 1/2" x 13 UNC x 1" socket-head bolts (4) – 5⁄16" hex.
Cap: # 6 x 3/4" sheet metal screws (3) and # 6 finishing washers (3).
Bracket: 3" expansion anchors (4), lock washers (4), and nuts (4).
Series:
10BOLLARDBRZ: Bollard - Bronze.
10BollardsLV: Bollard - Silver.
10BOLLARDBLK: Bollard - Black.
10BOLLARDBRZWOH: Bollard - Bronze Without hole.
10BollardsLVWOH: Bollard - Silver Without hole.
10BOLLARDBLKWOH: Bollard - Black.
70.0195: Bollard cap.
70.5022: U-shaped bollard mounting bracket.
50.0073: Plastic transmitter shelf.
Finishes:
BRZ - Bronze
SLV - Silver
BLK - Black
Specifications for BEA Incorporated BEA10BOLLARDBRZ
Other Specs
| | |
| --- | --- |
| Alternate Codes | 10BOLLARDBRZ, BEA10BOLLARDDBRZ |
| Category | Access Control, Door Closers, Mounting & Misc Parts, Power Operator Mounting & Misc. Parts, Power Operators, Wireless |