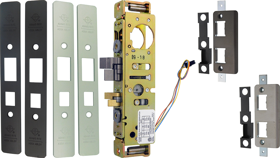 1-1/8IN ELECT LATCH NON-HANDED 12/24DC
Part#: ADR4300-30-2RP
Hot#: 158841
Turn key, apply voltage, or operate handle or paddle to release the spring-loaded latchbolt. Electrically-rated for continuous duty for timed applications. Interface with access control. Uses any standard mortise cylinder with MS cam.








Overview
Specifications
Helpful Links
Adams Rite 4300 Rite Pack Electrified Deadlatch
---
The Steel Hawk 4300 RITE Pack conveniently pairs the non-handed, narrow backset, electrified deadlatch with the flexibility of multiple faceplates in a single, simple package.
---
The RITE Pack includes:
one electrified deadlatch
2 flat faceplates: one clear (628) and one dark bronze anodized finish (313)
2 radius faceplates: one clear (628) and one dark bronze anodized finish (313)
Specifications for Adams Rite Manufacturing ADR4300-30-2RP
Other Specs
| | |
| --- | --- |
| Alternate Codes | 146582, 157252, 158841, 4300-20-201-628, 4300-30-201-313, 4300-30-201-628, 4300-30-2RP, 4300-30-628, 430030201313, 430030201628, 4300302RP, ADR4200-35-101-628-12, ADR4200-35-101-628-24, ADR4200-35-201-313-12, ADR4200-35-201-31312V, ADR4200-36-201-628 24V, ADR4200-36-628-12V, ADR4200-628, ADR42003510131312LH, ADR42003610131312RH, ADR42003631312RH, ADR4300 628, ADR4300-30-201 628, ADR4300-30-201-313, ADR4300-30-2RP, ADR4300-30-RP, ADR4300-313, ADR430030201313 |
| Backset | 1-1/8" |
| Cylinder Type | Standard Mortise Cylinder |
| Door Type | Aluminum |
| Finish Color | Oil Rubbed Bronze, Satin Aluminum |
| Function | Electric Deadlatch |
| Grade | Grade 1 |
| Handing | Non-Handed |
| Latch Bolt Face Type | Round Corner, Square Corner |
| Latch Bolt Faceplate Size | 6-7/8" x 1" |
| Latch Bolt Throw | 5/8" |
| Lock Category | Glass Alum Locks |
| Series | Steel Hawk 4301 |
| Strike Included | Yes |
| Strike Size | 4-5/8" |
| Supplier | Adams Rite |
| Voltage | 12/16/24 VDC, Field -Selectable |