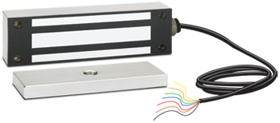 1200lb EMLock Gate Electromagnetic Lock, Face Drilled Mount with Bond Sensor and Door Position Switch, Weather Resistant, UL Listed, Grade 1, Brushed Stainless Steel Housing
Part#: SDC1576U
Hot#: 155344

Available: 4 ( 4 DEN )

Overview
Specifications
Helpful Links
Accessories
Security Door Controls 1576 Series Electromagnetic Gate Locks
---
This provides 1200lbs of holding force and enables the access and egress control of pedestrian and vehicle gates. Access controls such as card readers, digital keypads and remote control stations provide gate and lock control. Gate EMLocks are compatible with manual and automatic, swinging and sliding, tubular and iron gates. The floating armature design compensates for gate misalignment with the electromagnet.
Features:
1200 lbs Holding Force
ANSI/BHMA Grade 1 Compliant
BHMA Certified Holding Force
UL, CSFM, MEA Listed
Optional Mounting Brackets; 1576-BK, 1576-AB, 1576-MP & 1576-ZBV
Specifications:
Electrical Specifications:

Holding Force - 1200lbs
Voltage Input: 450mA @ 12VDC / 225mA @ 24VDC

Bond Sensor

Output: 125mA @ 12/24VDC
Wire Leads: 24 AWG, 10ft. long
Conduit Fitting: 1/2" Length, 3/4" outside thread / 1/2" inside thread

Mechanical Specifications

8-21/32"L x 2-1/2"H x 1-39/64"T
Armature: 7-9/32"L x 2-13/32"H x 5/8"T
Case: Stainless steel
Ordering Information:
1575U Standard mounting with magnetic bond sensor
1576U Face drilled with magnetic bond sensor
Application:
With no moving parts to bind or wear, the Gate EMLock® is inherently failsafe and will unlock automatically during a power outage. For security applications, the SDC 600 series power supplies with battery backup capability, provide continuous operation for up to 35 hours with just two 12VDC, 7 Amp Hour batteries.
Specifications for Security Door Controls SDC1576U
Other Specs
| | |
| --- | --- |
| Alternate Codes | 1576U |
| Category | Access Control, Gate Maglocks, Maglocks, Single Maglocks |
| Holding Force | 1200 lbslbs |
| Maglock Type | Gate Lock |
| Mounting | Surface Mount |
| Options | Bond Sensor, Door Status Sensor, Face Drilled |
| Size | 8-21/32'' x 2-1/2" x 1-39/64 |
| Voltage | 12V DC, 24V DC |