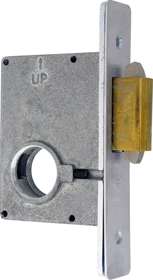 DEADLOCK
Part#: ADR2331-26D
Hot#: 100794


Overview
Specifications
Helpful Links
Adams Rite 2331 Heavy Duty Deadbolt
---
The 2331 Heavy Duty Deadbolt provides a heavy duty deadbolt lock that expands into the strike for heavy duty wood or hollow metal applications.
A heavy duty deadbolt for heavy duty metal or wood sliding doors, the 2331 Heavy Duty Deadbolt throws a massive brass bolt into its strike, then expands two stainless steel dogs to secure the door. A single turn of the key expands or retracts the bolt. Operates with standard mortise cylinder (standard cam) or with standard mortise cylinder thumbturn. There is no latch action.
Operation: 360deg. turn of key or thumbturn extends and expands or retracts and withdraws the bolt. Key cannot be removed unless bolt is positively locked or totally retracted. Requires special cylinder cam.
---
SPECIFICATIONS
Backset: 1-3/4" only
Case: Zinc alloy, measures 7/8" x 3-5/8" x 2-5/8" deep.
Bolt: Brass with stainless steel dogs, 1/2" x 1-1/2" with 3/4" horizontal throw and 11/32" expansion above and below main bolt.
Armor Faceplate: Flat faceplate of brass, 1" x 5-3/4". Available in a variety of finishes.
Strike: 1/8" x 1" x 4-11/16" with 5/8" x 1-5/8" opening. Brass, with four-screw mounting. Trim finish same as faceplate.
Special Cylinder Cam: 2331 Heavy Duty Deadbolts are operable by any standard 1-5/32" diameter mortise cylinder with special cam dimensions.
Options: Specify trim finish: US3 Polished Brass (605), US26 Bright Chrome (625), or US26D Satin Chrome (626).
Standard Package: Individually boxed with strike and wood screws for mounting lock and strike. Shipping weight: 2 lbs.
Specifications for Adams Rite Manufacturing ADR2331-26D
Other Specs
| | |
| --- | --- |
| Alternate Codes | 100794, 2331-26D, 233126D, 400374, ADR2331-626, ADR2331626 |
| Backset | 1-3/4" |
| Bolt Operation | Key or Thumbturn |
| Finish Color | Satin Chrome |
| Function | Heavy Duty Deadbolt |
| Handing | Non-Handed |
| Lock Category | Deadbolt |
| Strike Size | 1/8" x 1" x 4-11/16" |