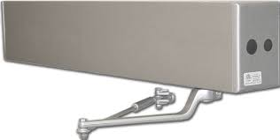 Low Energy Automatic Door Operator, Single Door, Right Hand Push, 52in for 48in Doors, 115VAC Plug-in Cord, Aluminum
Part#: DTXAO19-1 PUSH-RH AL-52IN
Hot#: 168363
The AO19 Series Automatic Operator for single doors is an easy to install, heavy duty product for high use and high abuse low energy applications. The AO19 Series meets requirements for ANSI/BHMA A156.19 (ANSPALEPOD)


DETEX AO19-1 Low Energy Automatic Door Operator
---
The AO19 Series Automatic Operator for single doors is an easy to install, heavy duty product for high use and high abuse low energy applications. The AO19 Series meets requirements for ANSI/BHMA A156.19 (American National Standard for Power Assist and Low Energy Power Operated Doors) and provides standard features that meet the requirements of the American Disabilities Act.
---
BENEFITS:
Economical operator provides safe and easy access in medium to high-traffic and security areas.
Provides ADA compliant access to handicap applications.
Quiet operation.
115VAC power plug-in mounted in header.
Hanger plate allows quick installation.
Self-contained unit in an extruded case allows easy access for maintenance and adjustments.
Works with existing access control, locking and computer signal devices.
Easy manual use.
Reduced service calls due to heavy-duty construction.
3-way low-voltage ON/OFF/HOLD switch for ease of service and setup.
Can be installed and adjustments can be made prior to electrician connecting building power.
FEATURES:
Available in single, pair (twin) for independent, simultaneous and dual egress openings.
Power close applies a reverse power to aid in latch check position. Must be selected to activate.
Single voltage source required to operate.
Adjustable delayed activation for sequenced vestibule doors.
Reverse on obstruction stalls a door during closing cycle and re-activates to open if an obstruction is sensed anytime before the latch position. Must be selected to activate.
Adjustable closing speed.
Push & Go (Use for Handicap) activates when door is manually pushed to open. Must be selected to activate.
Electric lock relay provides an adjustable delay before door opens to unlock an electric strike, maglock or other types of electric locks prevents binding.
SPECIFICATIONS:
Power Requirements:
Motor:

115VDC rectified.
1/8 hp.
60:1 gearbox.

Module:

Activation input terminals.
Form C lock switch terminals.
Safety lock-out built in.
17 additional features standard on board.

Enclosure:

7" height x 4 1/2" depth.
Approximately 50 lbs.
Aluminum extrusion.

For use on doors 300 lbs or less.
Push reveal depth up to 11" with standard arm. Extended arm available.
Pull reveal depth 2-1/2".
ACCESSORIES:
104792: Wireless Button Package (includes 2 push plates, 2 mounting boxes and 1 receiver).
NG-IR-A: Hardwired Touchless Activation Switch.
NXG-SW: Wireless Touchless Activation Switch.
DS-3681-630: Electric Strike, cylindrical.
PB-2048-3: Mushroom switch, hard-wired.
MECHANICAL OPTIONS:
LH Push - Left Hand Push.
RH Push - Right Hand Push.
LH Pull - Left Hand Pull.
RH Pull - Right Hand Pull.
39.5" - Fits above most 36" doors.
45.5" - Fits above most 42" doors.
52" - Fits above most 48" doors.
---
FINISHES:
» AL - 204-Ri Clear: Arch. Class II anodized coating, AA-M12C22A31
» BZ - 313-Ri Dark Bronze: Arch. Class II Anodized coating, AA-M12C22A32
Specifications for Detex Corporation DTXAO19-1 PUSH-RH AL-52IN
Other Specs
| | |
| --- | --- |
| Alternate Codes | AO19-1 PUSH-RH AL-52IN, AO191PUSHRHAL52IN |