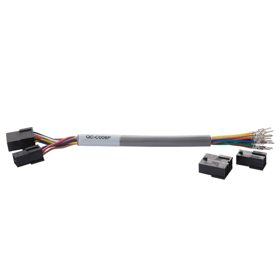 (QC12) 12 Wires-6in Wires Harness, 8 & 4 Pin Connector w/12 Wires , Quick Connect Molex Connectors at 1 End, Pinned 1 End
Part#: MCKQC-C006P
Hot#: 181336

Available: 11 ( 11 SEA )

For Exit Device Rail Jumper to Hinge, Insert pre-pinned ends into plastic Molex connector


Series Overview
Specifications
Notice: The info below is not item specific.
McKinney ElectroLynx® Hinges (QC Option)
---
Each hinge features plug connectors that eliminate the need for separate or exposed wiring and make installation quick and simple. Brass eyelets add protection and durability. The QC Option is available on most standard McKinney hinges. TA2714 and T4A3786 (4-1/2" x 4-1/2" 26D) are available on the 3-day Quick Ship Program.
Features:
The QC option is available on standard and heavy weight full mortise bearing hinges as well as swing clear and wide throw hinges
Electric hinges allow a constant flow of current from the power source through the hinge to electrified door hardware. No external wires can be seen, eliminating tampering and improving the aesthetics of the door opening
Materials: brass, stainless steel, and steel
For 4 amp continuous @ 24 volts AC or DC per circuit,28 gauge multi-strand wires are used.
An 8 position connector is used for QC4 and QC8 wire hinges. An 8 position and a 4 position connector is used for QC12 wire hinges.
Hand of hinge must be specified on two knuckle hinges
Can be used in conjunction with MM option on most full mortise hinges. QC12 x MM not recommended for wood or solid core doors
Full Mortise QC hinges are available in most BHMA and McKinney powder coat finishes
Wires are coordinated to work with other ASSA ABLOY Group brands electro-mechanical hardware
Standard ElectroLynx® Retrofit Cable Sizes:
When retrofitting a door with ElectroLynx hinges, the wiring harness must also be ordered.
| | | | |
| --- | --- | --- | --- |
| Actual Cable Length | 2 Conductor and Molex both ends | 2 Conductor and Molex one end, pinned one end | Typical Application |
| 3" | QC-C003 | QC-C003P | Between hinge and the end of an exit device. |
| 6" | QC-C006 | QC-C006P | Between hinge and the end of an exit device. |
| 12" | QC-C012 | QC-C012P | Between hinge and the end of an exit device. |
| 26" | QC-C200 | QC-C200P | Between hinge and through the door to the lockset or exit device trim. |
| 32" | QC-C206 | QC-C206P | Between hinge and through the door to the lockset or exit device trim. |
| 38" | QC-C300 | QC-C300P | Between hinge and through the door to the lockset or exit device trim. |
| 44" | QC-C306 | QC-C306P | Between hinge and through the door to the lockset or exit device trim. |
| 50" | QC-C400 | QC-C400P | Between hinge and through the door to the lockset or exit device trim. |
| 15' 2" | QC-C1500 | QC-C1500P | From the hinge location, up the jamb to above the ceiling, or up and around full lite or half lite metal door. |
Specifications for Mckinney Products Company MCKQC-C006P
Other Specs
| | |
| --- | --- |
| Alternate Codes | QC-C006P, QCC006P |
| Category | Access Control, CCTV Products, Wire & Cable, Wire & Power Supplies |