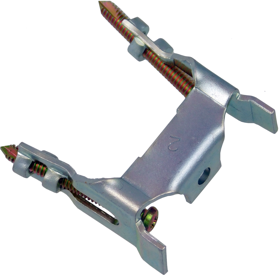 Radius Mounting Bridge
Part#: ADR4104-01
Hot#: 100831

Available: 99+ ( 14 DEN, 36 KAN, 41 LA, 6 LV, 3 PHX, 37 SEA, 15 SLC, 9 STX )

Overview
Specifications
Helpful Links
Like Items
Adams Rite Mounting Bridges
---
The Adams Rite 4104 mounting bridges and 4075 installation tool are designed for the installation of MS® Deadlocks and Deadlatches in aluminium hollow door sections.
Key Benefits
For use on aluminium and steel doors.
Two screws enable a secure fix into the back wall of the section with thelockcase then mounting directly onto the bridge.
The 4075 installation tool securely holds the bridge whilst fitting and fixing into the narrow confines of a door cutout.
Ideal for replacement applications.
Related Hardware
MS®1850S Maximum Security Deadlock
MS®2200 Maximum Security Deadlock
MS®1890 Latch/Deadlock
4710 Heavy Duty Deadlatch
4750 Deadlatch
Specifications for Adams Rite Manufacturing ADR4104-01
Other Specs
| | |
| --- | --- |
| Alternate Codes | 100831, 400515, 4104-01, 410401, LMB-08, LMB08 |
| Category | Lock Components, Etc., Lock Parts, Lock Sets |
| Compatibility | MS Deadbolt, AR Deadlatches |
| Part Type | Mounting Bridge |
| Style | Radius |
| Supplier | Adams Rite |
Like Items for ADR4104-01