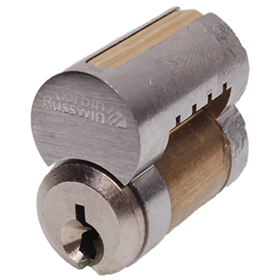 LFIC 6 Pin Red Construction Core, No Keys - Add "Corcontrol Key and Corchange Key"
Part#: CORCR8000-CT6 RED-626
Hot#: 173699

Available: 99+ ( 15 KAN, 43 LA, 5 LV, 40 PHX, 11 SEA )

Series Overview
Specifications
Accessories
Notice: The info below is not item specific.
Corbin Russwin CR8000 Interchangeable Core (IC) Cylinders
---
Interchangeable cores provide rekeying convenience for virtually all types of keying systems. This type of cylinder saves time and money over the life of a building.
Options:
7-Pin
VKC (Visual Key Control)
CKC (Concealed Key Control)
Construction Master Keying
Restricted/Patented Keyways
Pyramid
Features:
Advantages:Rekeying can be done by non-technical personnel without removing hardware from the door. When used system wide, IC provides tremendous rekeying convenience. When planned from the inception of a system, IC cylinders can be integrated with conventional cylinders.
Applications: IC is recommended for virtually all types of keying systems, such as office buildings, hotels, schools, hospitals and universities. When used in exit devices and other installations which are labor intensive to rekey, IC saves time and money over the life of the building.
Operations: All operating keys (change, master, grand master) operate the lock normally. To rekey, use the special control key. The control key operates at a separate shear line in certain chambers within the core. Only the control key is required to remove and install a core.
Cores: Cores are available in 6-pin (standard), 7-pin, security and Pyramid. Two nickel silver change keys are furnished standard per core. Control keys will be furnished when ordered.
Construction Keying: Corbin recommends temporary construction cores for greater security. Special construction master keying is also available, when planned from the inception of the keying system.
Core Marking: Concealed Key Control (CKC) is available for all Corbin Russwin cores.
Finishes:
605 - Bright Brass
606 - Satin Brass
611 - Bright Bronze
612 - Satin Bronze
613 - Dark Oxidized Satin Bronze, Oil Rubbed
613E - Dark Oxidized Satin Bronze, Equivalent
618 - Bright Nickel Plated
619 - Satin Nickel Plated
622 - Flat Black Coated
625 - Bright Chromium Plated
626 - Satin Chromium Plated
629 - Bright Stainless Steel
630 - Satin Stainless Steel
722 - Black Oxidized Bronze, Oil Rubbed
Specifications for Corbin Russwin CORCR8000-CT6 RED-626
Other Specs
| | |
| --- | --- |
| Alternate Codes | 8000-CT6 RED, 8000CT6RED, COR8000-CT6 RED, CORCR8000-CT6 RED, CR8000-CT6 RED, CR8000-CT6 RED-626, CR8000CT6RED, CR8000CT6RED626 |
| Category | Cylinders, FSIC/LFIC (Full Size - Large Format), Interchangeable Core Cylinders, Key Blanks & Accessories, Lock Components, Etc., Lock Parts, Lock Sets |
Accessories for CORCR8000-CT6 RED-626