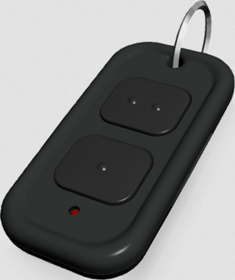 Keychain Transmitter 2 Button 433 MHz
Part#: BEA10TD433HH2
Hot#: 158551
Overview
Specifications
Helpful Links
BEA® 433 MHZ Family Wireless Transmitters And Receivers
---
BEA 433 MHZ FAMILY: includes digital receivers, handheld and push button transmitters.
---
FEATURES:
Enhances accessibility: Offers a means of activation of automatic doors for those with limited mobility or disabilities.
Pair with BEA push plates: Reduce installation time by eliminating the need to run wires from the push plate or use additional mounting hardware.
Extended hold time: Extended hold time receiver will hold door open for as long as button is pressed.
Learn modes: Delay and no-delay learn modes provide either instant or delayed activation for sequencing doors.
SPECIFICATIONS:
Frequency: 433 MHz.
Radio Control Type: Digital.
Emitted Radio Power: - 28.7 dBm (transmitter).
Power Consumption: 3mA (transmitter); 30mA (receiver).
Power:

Hardwire: (1) 9-volt or 3-volt battery.
Handheld: (1) 3-volt battery.

Input Voltage: 12 – 24 VAC / VDC (receiver).
Contact Rating: 1.0 A @ 30 VDC; 0.5 A @ 125 VAC; 0.3 A @ 60 VDC.
Operating Temperature: 14 – 131 °F (-10 – 55 °C).
Capacity: 100 programmed transmitters (per receiver).
LED Functionality:

Receiver/Transmitter Learn: Red.
Relay Activity: Blue.

Dimensions (W x H x D):

Receiver: 2-1⁄8" (W) x 1" (H) x 2-3/4" (D).
Transmitter: 1-3⁄8" (W) x 3⁄5" (H) x 2-3/4" (D).

Norm Conformity: CE, FCC, IC.
PRODUCT SERIES:
10RD433: 433 MHz Receiver.
10RD433EH: Extended hold.
10TD433HH1: One button transmitter.
10TD433HH2: Two button transmitter.
10TD433HH3: Three button transmitter.
10TD433HH4: Four button transmitter.
10TD433PB3V: One button, 3-volt wired transmitter.
1-TD433PB9V: One button, 9-volt wired transmitter.
---
FINISHES:
» N/A
Specifications for BEA Incorporated BEA10TD433HH2
Other Specs
| | |
| --- | --- |
| Alternate Codes | 10TD433HH2 |