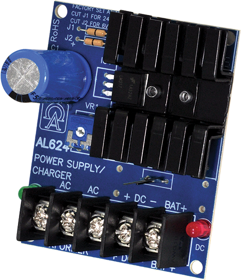 1.2A, 6/12VDC OR 0.75A, 24VDC POWER SUPP
Part#: ALXAL624
Hot#: 148444
Model AL624 power supply/charger converts a low voltage AC input to a 1.2A of continuous supply current 6VDC or 12VDC or .75A of continuous supply current 24VDC. Model DPS1 is a DIN Rail Mount version of this product.


Overview
Specifications
Helpful Links
Altronix AL624 - Power Supply/Charger
AL624 power supply/charger converts low voltage AC input into 6VDC or 12VDC @ 1.2 amps or 24VDC @ 750mA of continuous supply current (see specifications). This general purpose power supply has a wide range of applications for access control, security, and CCTV system accessories that require additional power.
---
Specifications
Input:

16VAC to 24VAC, 20VA to 40VA (Transformer Selection Table).

Output:

Switch selectable 6VDC-12VDC-24VDC.
6VDC or 12VDC @ 1.2 amp supply current or 24VDC @ 0.75 amp supply current.
Filtered and electronically regulated output.
Short circuit and thermal overload protection.

Battery Backup:

Built-in charger for sealed lead acid or gel type batteries.
Automatic switch over to stand-by battery when AC fails.
Maximum charge current 0.3 amp.
PTC battery protection.

Visual Indicators:

AC input and DC output LED indicators.
---
Features:
Extremely compact design
Battery leads included
Snap Trac compatible (order Altronix model #ST3)
DIN Rail mount version available (order Altronix model #DPS1)
Board Dimensions (L x W x H approx.):

3" x 2.5" x 1.125" (76.2mm x 63.5mm x 28.58mm)
Specifications for Altronix ALXAL624
Other Specs
| | |
| --- | --- |
| Access Type | Power Supply |
| Alternate Codes | AL624 |
| Voltage/Amp Rating | 12 - 24V DC |