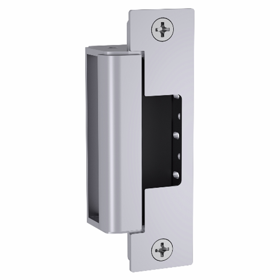 KIT - Electric Strike 12/24VDC/VAC, FS/FSE, Complete Kit Includes 1J, 1K, 1KD and 1KM Faceplates (4-7/8in x 1-1/4in), Cylindrical/Mortise/Rim Exits Latches Max 3/4in Throw, Lock Monitor, Satin Stainless Steel
Part#: HES1500C-630-LM
Hot#: 173096
Finish: Satin

Available: 19 ( 15 PHX, 4 STX )

Dual voltage 12/24 VDC/VAC. Static strength 1,500 lbs. Field selectable fail safe/fail secure. Field adjustable integrated shim. Plug-in Connectors. SecuriCare 5-year, no-fault warranty


Series Overview
Specifications
Helpful Links
Notice: The info below is not item specific.
Hanchett Entry Systems 1500 Series Electric Strike
---
1500 Series Electric Strike low Profile for Latchbolts. Accommodates up to 3/4" latchbolt. Discover The Difference the most advanced, modular electric strikes that work with every brand of cylindrical or mortise locks designed to work with a 4-7/8" strike plate. Elegant Form & Function adjustable integrated shim for changing door conditions, Field upgradeable options, Integrated monitoring of latch bolt and/or door position switch. Designed with the Installer in Mind accommodates all brands of mortise and cylindrical locks. Dual voltage 12/24VDC. Field selectable fail safe/fail secure. Convenient & Versatile interchangeable accessories work with both models. Field serviceable components. All faceplates are interchangeable between the 1500 and 1600 Series.
Standard Features:
Stainless steel construction.
Tamper-resistant.
Dual voltage 12/24 VDC continuous duty.
Static strength 1,500 lbs.
Dynamic strength 70 ft-lbs.
Endurance 1,000,000 cycles.
Field selectable fail safe/fail secure.
Non-handed.
Interchangeable faceplates and accessories.
Field replaceable springs and actuator.
Fully finished faceplate, keeper, case and trim.
Field adjustable integrated shim.
ElectroLynx® connectors.
Optional Features:
LM: Lock monitor.
DLM: Dual lock monitors.
LMS: Lock monitor and strike monitor.
DLMS: Dual lock monitors and strike monitor.
Accessories:
157: Torx screws.
HESCUT-MTK: Metal template kit.
1500-104-xxx: Lip extension trim adapter (finish to match).
1500-106-xxx: 4500 adapter and trim enhancer kit (finish to match).
OPT-1SRK: Spring replacement kit.
OPT-1LM: Single lock monitor.
OPT-1DLM: Dual lock monitors.
MOD-1SOL: Solenoid replacement module.
Specifications:
Certifications: UL 1 QC fire-rated, 3 hour single door (fail secure only); UL lOC fire-rated, 1-1/2 hour double door; CAN4-S104(ULC-S104)fire door conformant; ANSI/SDI 250.13 windstorm resistant; ANSI-ASTM E330; Florida Building Code approved TAS 201,202, 203; UL 1034 burglary-resistant listed and suitable for outdoor use; UL 294 (6th Edition) listed; ANSI/BHMA A156.31, Grade 1; NFPA-252 fire door compliant; ASTM-E152 fire door compliant; RoHS compliant.
Frame Application:: Metal; Wood.
Electrical:: .24A at 12VDC; .12A at 24VDC.
Strike Body Depth: 1-3/8".
Strike cavity height: 3-1/4".
Tamper resistant, stainless steel construction: Yes.
Static strength (lbs): 1500.
Dynamic strength (ft-lbs): 70.
Endurance (cycles): lM.
Lip extension (sizes): 1/2".
Dual voltage 12 or 24: Yes.
AC or DC: Yes.
Current at 12 volts: 0.24A.
Current at 24 volts: 0.12A.
Continuous duty: Yes.
PoE friendly(under 0.25 amps): Yes.
Accommodates cylindrical and mortise latch bolts: Yes.
Accommodates all brands of mortise locks: Yes.
Finishes:
605 - Bright Brass
606 - Satin Brass
612 - Satin Bronze
613E - Dark oxidized satin bronze
629 - Bright Stainless Steel
630 -Satin Stainless Steel
BLK - Black
Specifications for Hanchett Entry Systems HES1500C-630-LM
Other Specs
| | |
| --- | --- |
| Access Type | Electric Strike |
| Alternate Codes | 1500C-630-LM, 1500C630LM, HES1500CLM-630 |
| Category | Access Control, Electric Strikes |
| Door Application | Electric Strikes |
| Electric Strike Compatibility | Cylindrical Deadlatch, Mortise Deadlatch, Rim Exit (Pullman Latch) |
| Electric Strike Faceplate Size | 1-1/4" x 4-7/8" |
| Electric Strike Faceplate Type | 1K, 1KD, 1KM, ANSI, Complete Latchbolt Faceplates Pac Includes 1J |
| Electric Strike Features | Body Depth 1-3/8", Outdoor Use, Tamper Resistant, UL Fire Rated |
| Electric Strike Series | 1500 |
| Electrical Option | Lock Monitor |
| Finish Code | US32D |
| Finish Color | Satin, Satin Stainless Steel |
| Fire Rated | Yes |
| Grade | Grade 1 |
| Voltage | 12/24 VDC/VAC |