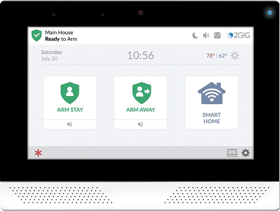 Edge Control Panel for North American Region AT&T/Alarm.com
Part#: 2GIGEDG-NA-AA
Hot#: 176954

Available: 3 ( 3 SLC )

2GIG® EDGE Security and Automation Panel
---
2GIG EDGE™ panel: sets a new benchmark in form and function with its sleek design that is thinner and more powerful than ever. Our on the edge processing technology is the difference that enables touchless disarm and the industry-first home security system with built-in face recognition and analytics within the panel itself – so private data stays private for greater peace of mind.
Our cutting-edge enhancements include double the viewing area, higher resolution, two speakers and dual microphones, delivering superb audio quality and 2-way voice communication for monitoring. The 2GIG EDGE panel is not only easy on the eyes, it's incredibly easy to use. The stunningly bold industrial design has a big, bright display with an updated user interface (UI) providing one button access to security and smart home functions, as well as a quick on-screen control of all Smart Areas. With smart home capabilities, the 2GIG EDGE panel is packed with features and your competitive advantage in selling the evolution of security and automation.
---
FEATURES:
Industry-first face recognition disarm with a fast and powerful processor delivering amazing rich colors on a brighter and larger screen.
Sleek, thin design is easy-to-use with updated and intuitive UI providing one button access to smart home functions and home automations.
Superb audio quality with twice the speakers, double the microphones. Added noise and echo cancellation with two-way communication.
Integrated Z-Wave Plus 700 V2 (700 series) with the ability to create and execute scenes and schedules.
Alarm.com compatible.
Live View Video: Cameras and doorbell cameras work with the 2GIG EDGE panel, with up to 8 different camera feeds viewable directly from the panel. View 4 camera feeds at a time.
Touchless Convenience: Integrated face recognition and Bluetooth technologies significantly streamline operation.
Encrypted Sensors: Help eliminate system hacks and prevent account take-overs. The panel is backwards compatible with older 2GIG® and Honeywell sensors.
Increased Data Privacy: Processing analytics on the edge versus the cloud better protects homeowner information.
Extra Security: Packed with built-in features homeowners demand – onboard camera, 2-way audio, cell radio, glass break sensor.
Dual Communication Paths: Uses both cellular LTE and Wi-Fi. If one service goes down, the other is always available. Wi-Fi connection also enables faster updates.
SPECIFICATIONS:
Security:

One-touch arming.
eSeries encrypted sensors.
Emergency (fire, medical, police).
100 users.
100 wireless zones.
2 wired zones.
Wired bell output.
32 keyfobs.
8 keypads.
2 open collector outputs.
Image sensor 3.

Audio:

Best in class 2-way voice.
Dual microphones (digital).
Noise and echo cancellation.
Front firing speakers.
Siren/piezo.
Annunciations and chimes.

Automation:

Integrated Z-Wave Plus V2 (700 series)
Z-Wave S2.
Create and execute scenes and schedules.

Voice Controls:

Google Assistant.
Amazon Echo.
Siri Shortcuts.

Communication:

4G LTE (Verizon and AT&T).
3G fall-back.
Wi-Fi 2.4 GHz (802.11 b/g/n, WPA-TKIP/WPA2-AES).
Wi-Fi access point.

Operating Specifications:

Operating temperature: 32°F to 104°F (0°C to 40°C).
Max humidity: 90%.
100-240VAC 50/60Hz 1.7A 14VDC adapter.
Lithium-polymer backup battery (24 hrs.).
Dimensions (L x W x D): 7.5"(19.05cm) x 5.625"(14.29cm) x 1"(2.54cm).
Weight: 1.39 lbs | 0.63 kg.

Certifications:

FCC: Part 15, Part 68.
ISED, RSS210/RSS247.
UL 985, UL 1023, UL 2017, ULC-S545, ULC S304.
SIA CP-01.
CSFM BML Listed.
PROP-65, ROHS.

Firmware Updates:
Warranty:
---
FINISHES:
» N/A
Specifications for 2GIG 2GIGEDG-NA-AA
Other Specs
| | |
| --- | --- |
| Alternate Codes | GEDG-NA-AA, GEDGNAAA |
| Category | Access Control, Alarms & Intercom, Burglar Alarms, Control Panels/Keypads |