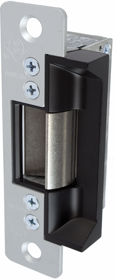 Electric Strike 24VAC Intermittent Fail Secure (FSE), (Field Reversible to FS), Radius Corner (RC), 1-1/4in x 4-7/8in Faceplate, Aluminum Clear Anodized (628)
Part#: ADR7160-540-628
Hot#: 100886
Mounts in aluminum jambs. For mortise latches with out deadbolt by others. Fail Secure (FSE)


Overview
Specifications
Helpful Links
Adams Rite 7160 Electric Strike
---
7160 Electric Strikes with 4-7/8" faceplates are designed for mortise or cylindrical type locksets with up to 3/4" latchbolt projection without deadbolt. For use in aluminum jambs.
Function
*Remote electrical control of any door equipped with a mortise or cylindrical type lockset with up to 3/4" latchbolt projection without deadbolt. Electrical actuation unlocks strike jaw, releasing latchbolt so door can be opened without operating latch itself. Extremely compact mechanism fits into aluminum jamb (or opposing door) sections as shallow as 1-7/8". Fits existing prep for discontinued Adams Rite 7560, 7860 Electric Strikes.
---
SPECIFICATIONS
» Fail-Safe/Fail-Secure: Field convertible from one mode to the other. However, AC intermittent solenoid must not be used continuously in either.
» Case: Approximately 1" x 3-3/8" x 1-7/8" deep.
» Strike Lip: Basic 7160 strike has lip of proper length for 1-3/4" thick door that closes flush with jamb edge. Where door thickness or jamb shape differs from this standard relationship, lip extension kits are available, specified by last dash number.
» Strike Opening: 3/4" x 1-7/16" x 5/8" deep. Bolt retainer jaw is stainless steel. Strike location must be centered on latchbolt.
» Faceplate: Measures 1-1/4 x 4-7/8" Faceplate is flat, with radiused corners. Available in a wide range of architectural finishes.
» Voltage: Available in 12 or 24 volt AC and DC. DC continuous units are silent, AC intermittent units "buzz" on operation.
| | | |
| --- | --- | --- |
| 12 | 1.42 | 0.33 |
| 24 | 0.74 | 0.17 |
SERIES OPTIONS
Available with two monitoring signal switches which sense whether latch bolt is in strike and whether strike jaw is blocked. Choice of voltage in AC and DC for intermittent or continuous duty. Specify assembled for either fail-secure (locked when unpowered) or fail-safe (locked when powered) operation, but can be field converted to the other mode.
» 4603 Rectifier – converts AC to DC, installs in low voltage line between transformer and strike. Rated 2 amps (200 PIV)
» 4605 Transformer – converts 120VAC to 12/24 VAC. Rated 40 Volt-amp output assures plenty of power for strike release. Patented mounting bracket fits in knockout hole of standard junction boxes.
» 4606 Transformer – Plug-in version for standard wall outlet.
---
FINISHES
313 - Dark Bronze Anodized (Similar to 613 - 10B - US10B)
335 - Black Anodized
626 - Satin Chrome (US26D - 26D)
628 - Clear Anodized (US28)
Specifications for Adams Rite Manufacturing ADR7160-540-628
Specifications
| | |
| --- | --- |
| Faceplate Size | 4-7/8" x 1-1/4" |
| Faceplate Style | Flat, Radius Corner |
| Fail Status | Fail Secure, Field Selectable |
| Finish Code | 628 |
| Frame Type | Aluminum |
| Grade | Grade 1 |
| Strike Opening | 3/4" x 1-7/16" x 5/8" deep |
| Supplier | Adamsrite |
| Throw | 3/4" |
| Voltage | 24V AC |
Other Specs
| | |
| --- | --- |
| Alternate Codes | 100886, 7160-540-628, 7160-540X628, 7160540628, 7160540X628, ADR7160-540X628, AL65 |
| Case Size | 1 W x 3-3/8 H x 1-7/8 D |
| Compatibility, Lock Category | Cylindrical, Mortise |
| Handing | Non-Handed |