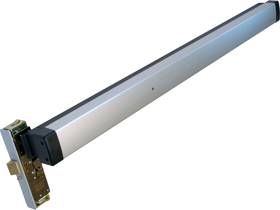 1-1/8in RHR Mortise Exit Device, Fits Narrow and Wide Stile Aluminum Doors, Handing is Field Reversible, Aluminum Clear Anodized (628), 36in
Part#: ADR8410-371-36
Hot#: 123039
Finish: Clear Anodized

Available: 94 ( 9 DEN, 8 KAN, 29 LA, 9 LV, 14 PHX, 13 SEA, 3 SLC, 9 STX )

RHR Field Reversible. Heavy duty deadlatching mechanism. Pushbar clad or anodized, not plated, in a variety of finishes. Easy to install. Clean, unobtrusive design. Strong, durable construction for a high level of security


Overview
Specifications
Helpful Links
Adams Rite 8400 Series (Life-Safety) Narrow Stile Mortise Exit Device
---
8400 SERIES OPTIONS
Silent Electrification Motorized Latch Retraction: The SE Motorized Latch Retraction option provides near-silent operation for quiet environments such as hospitals, offices, hotels, and libraries where solenoid-driven devices would be disruptive.
Electric Latch Retraction: The LR option uses a solenoid mounted in the pushbar for instantaneous unlocking and locking of the exit device from a remote location or access control device. LR option is not available on rim type exit devices (see EL option).
Alarmed Exit Device: This battery-operated option emits a loud (95 decibel) alarm to notify management of unauthorized exit. Available on minimum openign width 36"". Cannot be ordered with other exit device options.
Request to Exit (REX) – Monitor / Signal Switch: Mounted in the exit device pushbar on the hinge end, the switch can be used to activate signal light, horn, monitor, or other devices.
Cylinder Dogging: For management control of dogging exit devices for life-safety exit devices only.
Electric Dogging: A holding magnet keeps the pushbar depressed (set manually) and the latch retracted for lower profile exit devices, resulting in less damage and quieter operation.
Matching End Caps: Matching end caps are available for applications where it is preferable that the end caps match the finish of the exit device. Available for US finishes only.
---
FEATURES:
Heavy duty deadlatching mechanism
Strong, durable construction for a high level of security
Easy to install
Clean, unobtrusive design
Pushbar clad or anodized, not plated, in a variety of finishes
Fits standard cutout used for the Adams Rite MS® Deadlock on aluminum stile glass doors
8400 SERIES CERTIFICATIONS:
UL 305 Panic Hardware
ANSI/BHMA A156.3 Grade 1
California State Fire Marshall
New York City MEA
SPECIFICATIONS:
Materials: Pushbar made of extruded aluminum, clad or anodized in a variety of finishes.


Handing: Specify handing and bevel if applicable. Lever Entry Trim is field reversible.


Pushbar Length: Standard sizes: dimensioned for 30", 36", 42", and 48" openings. Standard width bars can be field cut to the next smallest opening width.


Backset: Backsets available in 31/32", 1-1/8", and 1-1/2"


Door Thickness: Suits 1-3/4" standard. Can be modified for thicker doors.


Stile Width: Minimum 2" Stile. Fits narrow, medium, and wide stile aluminum doors.


Projection: 2-5/8" when fully projected, 1-5/8" when dogged.


Dogging: Standard dogging with hex key or cylinder dogging option. Electric dogging also available.


Fasteners: Standard self-tapping screws.


Cylinders: Available separately


Cylinder x Fixed Pull (Function 03) Accepts any standard mortise cylinder with MS® cam.


3080 Entry Trim (Functions 08, 09): Accepts any standard diameter mortise cylinder with MS® cam. Accommodates cylinder lengths from 1" to 1-1/4". (Available separately).


Warranty: Five year limited.


Strikes: A variety of strikes are available for different applications and conditions. Standard strike (included), Extended Lip 8460-17 (available separately), Longface 8455-01 (available separately)ong>

313 - Dark Bronze Anodized
335 - Black Anodized
628 - Clear Anodized
US3 - Bright Brass
US4 - Satin Brass
US32 - Bright Stainless
US32D - Satin Stainless
Specifications for Adams Rite Manufacturing ADR8410-371-36
Specifications
| | |
| --- | --- |
| Category | Mortise Panic Devices, Panic Devices, Panic Devices & Exit Alarms |
| Dogging | Hex Key |
| Door Type | Aluminum |
| Door Width | 36" |
| Exit Device Type | Mortise Exit Device, Narrow Stile |
| Finish Color | Clear Anodized |
| Grade | Grade 1 |
| Handing | Non-Handed |
| Series | 8400 Series |
| Supplier | Adams Rite |
Other Specs
| | |
| --- | --- |
| Alternate Codes | 123039, 8410-371-36, 8410-37136, 841037136, ADR8410-37136 |