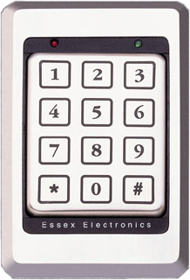 Gang Style 500 User Keypad 26D
Part#: ESSSKE-34S
Hot#: 141665
Overview
Specifications
Helpful Links
ESSEX ELECTRONICS SKE-34 Series
---
The SKE-34 is a heavy duty, self contained Access Control Keypad with features suitable for landing and single stop elevator applications. With a 2A relay on board, simply add power (5VDC or 12 to 24VDC) and the SKE-34 is ready to provide dependable access control. Rugged Stainless Steel construction and proprietary Piezoelectric Billion Cycle Switch Technology™ ensures superior performance in any environment (heat, rain, snow, ice -up to 3/8").
Easily programmable through the Keypad, the SKE-34 features 502 Codes (1 Master, 500 User and 1 Temporary) and 3 Programmable Outputs (1 SPDT Relay rated at 2A at 24V max and 2 Open Collector 1/4A max to ground). Two 1/4A grounding outputs are available which can control an auxiliary device.
The SKE-34 used for elevator applications is backed by a 2 year limited warranty.
FEATURES
• Self Contained Access Control
• 3 Programmable Outputs
• Up to 500 User Codes
• Easy to install and operate
• Laser Marked Keypad Graphics
• Lower Cost Self Contained Design
• Keypad Programmable
• Keyless Throwover
Specifications
502 Codes - 1 Master Code, 500 User Codes, 1 Temporary Code
Variable Length Codes - 3 to 8 Digits
1 SPDT Relay rated at 2A at 24V max
Two 1/4 A Grounding Outputs (Open Collector)
Easily Programmable from Keypad
Programmable Door Open Time - 1 to 99 seconds
Manual or Timed Latching
Time Zone/Restricted Access Input
Anti-tailgating
Tamper Alarm
Remote By-Pass (REX - Request to Exit) Input
Power Requirements: Field Selectable 5VDC or 12 to 24VDC
Outputs: 1 SPDT Relay rated at 2 amps at 24V max.
» Two Open Collector 1/4A Grounding Outputs
Keypad Switch Life: > 1 Billion Cycles
Keypad Operating Environment: 100% Relative Humidity
Keypad Operating Temperature:-40°C to +70°C(-40°F to +160°F)
Keypad Dimensions: 5-1/8" H x 3-3/8" W x 7/16" D (13 x 8.6 x 1.1 cm)
Specifications for Essex Electronics Inc ESSSKE-34S
Specifications
| | |
| --- | --- |
| Mounting | Flush Mount |
| Voltage | 12V DC, 24V DC, 5V DC |
Other Specs
| | |
| --- | --- |
| Alternate Codes | 141665, SKE-34S, SKE34S |
| Reader Style | Keypad |