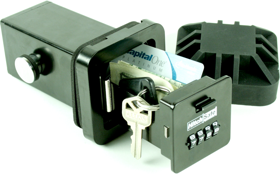 Hitch Safe
Part#: FJMHS7000
Hot#: 145220

Available: 33 ( 11 DEN, 2 KAN, 8 LA, 1 LV, 4 PHX, 4 SEA, 3 SLC )

Series Overview
Specifications
Notice: The info below is not item specific.
Frank J. Martin Company
---
The Hitch Safe slides into your current standard 2" Hitch Receiver on your Truck, SUV or Van and is secured inside the Receiver Hitch via two bolt retaining bars inside the Hitch Safe. The Hitch Receiver itself is a solid steel vault that combined with the Hitch Safe provides the most secure location on your vehicle to store spare keys, credit cards, cash and driver's license!! To access your keys you simply release the Rubber dust cover (made to look like any normal Hitch Cover), enter in your personal 4 number dial combination, which then releases the drawer and allows access to your keys, cards or more. The Hitch Safe easily installs/uninstalls in seconds with no tools required! Great for outdoor activities where taking keys along is a hassle or they can become lost. This solution is far superior to the magnetic key holders that fall off at the first bump. If your magnetic Hide-A-Key has not joined the millions of them laying on the side of the road, you then have an open invitation for someone to steal your car because everyone knows where they are hidden! The Hitch Safe is contained within the solid steel structure of the Hitch Receiver via a combination where only YOU can access your keys when needed.
Specifications:
Inner Dimensions of drawer

Width- 32mm (1-1/4")
Length- 90mm (3-9/16")
Height- 45mm (1-3/4")
Fits 2 cards diagonally (credit card or license)

Hitch Safe Body

Fits standard 2" Hitch Receiver
Adjustable for pin hole variances
Maximum hole reach from front of receiver to middle of pin hole is 2-9/16"
Maximum body depth into receiver is 4-3/8"
Note: The 2005-current Toyota Tacoma's and the 07-current Tundra OEM Hitch Receivers require optional longer pins (contact us for the pins). Click here for more details. The Hitch Safe fits all other makes & models to include RVs, all OEM and all aftermarket hitch receivers. These longer pins also work on the large commercial trucks with the rare 2.5" receiver (with 2" adaptor).
Specifications for Frank J. Martin Company FJMHS7000
Other Specs
| | |
| --- | --- |
| Alternate Codes | 145220, FJMHS7000T, HS7000, HS7000T |
| Category | Burglary & Fire Safes, Hitch Safes, Safes |
| Hitch Receiver Size | 2" |
| Inside Dimensions: | 1-1/4 x 3-9/16 x 1-3/4 |
| Lock Type | Dial Combination |