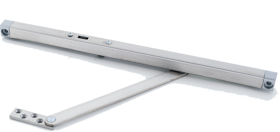 HEAVY DUTY SURFACE STOP
Part#: GLY904SUS32D
Hot#: 136751
Overview
Specifications
Helpful Links
Glynn-Johnson 90 Series Surface Overhead Door Holders/Stops
---
Heavy Duty
Glynn-Johnson 90 Series holders and stops are the most rugged models available for heavy-duty applications. The channel is surface-mounted to the door, most often with sex bolts, and the jamb bracket is surface mounted to the jamb, requiring minimal door and frame preparation.
These versatile units can be used in conjunction with most surface-applied door closers. The provided templates allow for variable mounting positions, ranging from 85-deg to 110-deg hold open/stop angle.
These templates are designed for installation in almost all types of doors, including doors with conventional butt-type hinges or specialty hinges.
---
Series Features/Benefits

Four models:
90H Series hold-open model
90S Series stop-only model
90F Series friction hold-open model
90SE Series special stop-only model
Three options:
J-Angle jamb bracket
SHIM—Blade stop shim kits
SOC-Pin-in-socket security screw package
Features:
Non-handed
Improved compatibility with door closers
Single-acting doors
Interior/exterior applications
Durable
Easy to install
Improved corrosion resistance
Function conversion kits available
Application Information

- UL Classification
- The 90 Series stop-only models are classified by Underwriters Laboratories (UL) as miscellaneous fire door accessories.
- This classification applies to use on either hollow metal fire doors or wood fire doors.
- These units may be used on doors of any rating.
---
Materials and finishes
300 Series stainless steel, brass and steel substrates, these models are available in the largest selection of finishes in the industry.
Stainless steel models offer the highest resistance to corrosion. Available in the following finishes:
| | |
| --- | --- |
| US3 | Polished brass |
| US4 | Satin brass |
| US10 | Satin bronzev |
| US10B | Oil rubbed bronze |
| US32 | Polished stainless steel |
| US32D | Satin stainless steel |
| SP4 | Powder coat brass |
| SP10 | Powder coat bronze |
| SP28 | Powder coat aluminum |
| SP313 | Powder coat dark bronze |
| SPBLK | Powder coat black |
| 652 | Chrome-like coating |
Specifications for Glynn-Johnson GLY904SUS32D
Other Specs
| | |
| --- | --- |
| Alternate Codes | 136751, 904SUS32D |
| Arm Function | Non-Hold Open, Stop |
| Closer Type | Mechanical, Overhead Door Holder |
| Finish Color | Satin Chrome |
| Handing | Non-Handed |
| Maximum Opening | 110° |
| Mounting | Adjustable Track, Size 4 |
| Series | 90 Series |
| Supplier | Glynn Johnson |