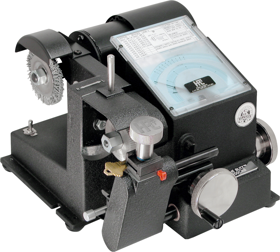 The Blitz Code Machine
Part#: HPC1200CMB
Hot#: 105434

Available: 59 ( 4 DEN, 15 KAN, 13 LA, 3 LV, 4 PHX, 3 SEA, 11 SLC, 6 STX )

This revolutionary code milling machine has made all others obsolete and is now the unequivocal "Standard of the Industry." The Blitz is very simple to use and extremely versatile. It cuts by actual manufacturers` depths and spaces.


Series Overview
Specifications
Helpful Links
Notice: The info below is not item specific.
HPC Inc The Original Blitz™
---
The Original Blitz™ Machine, from its introduction more than 30 years ago, revolutionized the locksmith industry. The 1200CMB Blitz™ simplified the code cutting process, and its innovative design earned it 3 U.S. Patents. It is the best selling code machine, renowned as the "Standard of the Industry", and after more than three decades, HPC's Blitz™ machine has become an integral part of virtually every locksmith business.
The Extreme Blitz™ is ideal for a new locksmith, a second shop or a new van. Perfect for the locksmith who wants it all!
The Base Model Blitz™ is the perfect second machine. Use your existing Code cards and cutters to make it a dedicated machine for the keys you cut most often.
Model No.1200CMB
Motor:120VAC (1/6 hp, 3.5 amps)
Weight: 34lbs / 15.4kg
Machine Size: 12"W x 14"D x 9H" (30.5W x 35.5D x 23H cm)
Bench Size: 20"W x 14"D (51W x 35.5D cm)
Additional Models:
Model No. 1200CMB240V

Motor: 240VAC 50 cycle
Weight: 34lbs / 15.4 kg
Machine Size: 12"W x 14"D x 11"H (30.5W x 35.5D x 28H cm)
Bench Size: 20"W x 14"D (51W x 35.5D cm)

Model No. 1200CMBX

3 Cutters
175 Code Cards
Calibration Kit
Tubular Key Adapter Kit

Model No. 1200CMBACDC

Motor: 120VAC/12VDC (1/6 hp, 4 amps AC, 12 amps DC)
Weight: 44lbs / 19.5 kg
Machine Size: 12"W x 14"D x 11"H (30.5W x 35.5D x 28H cm)
Bench Size 10W x 14D (51W x 35.5Dcm)
Cutters Supplied:
No. CW-14MC Tool Steel, 100o lg. cylinder
No. CW-1011 Tool Steel, 90o sm. cylinder
Accessories Included:
No. DECK-150 142 Code Cards and 8 Micrometer Cards
No. CARD-B Binder with Manual
No. CM-1054MA Red Tip Stop
No. KBPS-1 Brass Plated Key Shim
No. WRENCH-1 Cutter Adj. Wrench
No. WRENCH-2 Allen Wrench, 5/64"
No. WRENCH-2 Cutter Nut Wrench
Optional Accessories:
No. CS-CD - CodeSource® Software
No. CW-CD - CardWare® Software
No. MJ-1 - Medeco® Jaw
No. SPJ-1 - Schlage Primus®/Quad Jaw
No. CARD-BP - Card Panel (holds 40 Cards)
No. HT-125 / No. RT-SD - Tip Stops / Safe Dep. Box Keys
No. HT-125 / No. HT-625 - Tip Stops / L&F Safe Dep. Box Keys
No. SPR-5 - Spacer for Safe Dep. Box Keys
No. HKD-75 - Key Decoder
No. CMB-CK - Calibration Kit
No. TKA-CMB - Tubular Key Adapter Kit
No. TIBBE-CMB - Tibbe Key Adapter Kit
Optional Cutters:
No. CW-1013 - Tool Steel, 90°, Emhart
No. CW-90MC - Tool Steel 90° large cylinder
No. CW-20FM - Tool Steel, 76° Sargent
No. CW-32MC - Tool Steel,90°, ASSA
No. CW-47MC - Tool Steel 87° Automotive
No. CW-1014 - Tool Steel, 100°, Kwikset
No. CW-105 - Tool Steel, 105°, Double Angle
No. CW-45SMS - Tool Steel, Side Mill Slotter
No. CW-BC - Carbide, .054 Yale Slotter
No. CW-CC - Carbide, .058 Lloyd Matheson Slotter
No. CW-DC - Carbide, .064 S&G Slotter
No. CW-EC - Carbide, .069 Diebold Slotter
No. CW-FC - Carbide, .088 Mosler Slotter
Specifications for HPC Inc HPC1200CMB
Other Specs
| | |
| --- | --- |
| Alternate Codes | 105434, 1200CM, 1200CMB, 500122, UNIVERSAL II, UNIVERSALII |
| Category | Automotive, Key Machines & Equipment, Locksmith Equipment |
| Machine Type | Key Machine |