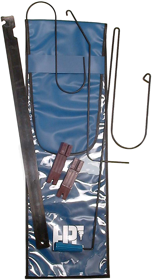 Starter Killer Auto Kit
Part#: HPCAKK-55
Hot#: 105477

Available: 1 ( 1 LA )

Series Overview
Specifications
Helpful Links
Notice: The info below is not item specific.
HPC Inc Starter Killer Kit
---
The Starter Killer Kit (AKK-55) is ideal for beginners or locksmiths needing a small kit for a second service vehicle. The AKK-55 includes the Super Jim™ (CO-11), Stretch Killer™ (CO-61), Short Double "L" (CO-72), Lasso™ (CO-73 and two 3/8" Ultimate Auto Wedges (AW-38), all in a clear-view plastic case. This variety of tools will help you open many cars using the Lasso and Under & Over styles as well as attacking vertical and horizontal rods, lazy pawls, bell cranks and GM Latch.
Contains:
CO-11 - Super Jim™

The Super Jim™ is a wider version of The Original Slim Jim™ (CO-10). This configuration has been designed to accommodate additional automobile models, as well as expedite the entry time on many vehicles. The Super Jim™ the natural evolution of a classic!

CO-61 - Stretch Killer™

The Stretch Killer™ has the most universal dimensions of the Under & Over car opening tools. The height of the arc is greater than the Caddy Killer (CO-60), but the operating end hangs lower, allowing you to reach locks that sit deeper in the door panel.

CO-72 - Short Double "L"

HPC's Double "L" Tools are highly versatile car openers. With an upward hook on one leg and an outward hook on the opposite leg, they can easily grab and bind vertical linkages from above or below. The hooks are laminated with a slip resistant coating and are able to reach around many shields. For thick door panels, use the Stretch Double "L" (CO-71).

CO-73 - Lasso™

The Lasso™ tool is for vehicle entry when the lock button is visible. It is made of high quality "poly-flex" material with a waxed high-strength lanyard. The tool allows you to actually tie the string around the lock button and lift up to unlock the door. The CO-73 is excellent for those luxury car openings where metal tools may damage the finish.

(2) AW-38 - Ultimate Auto Wedge (3/8")(9.5mm)

The Ultimate Auto Wedges are designed for smooth, safe insertion and will not fall into door cavities. The special angled tips allow for easier insertion and the sure-stop edges stop you from pushing these wedges in too far. These wedges feature a special tapered body that prevents them from popping out, and the special "illumination hole" holds your probe light in place at any angle

AKK-POUCH
Specifications for HPC Inc HPCAKK-55
Other Specs
| | |
| --- | --- |
| Alternate Codes | 105477, 500247, AKK-55, AKK55 |
| Automotive Tools | Car Opening |
| Category | Automobile Lockout Tools, Automotive, Locksmith Equipment, Tools |
| Type | Kit |