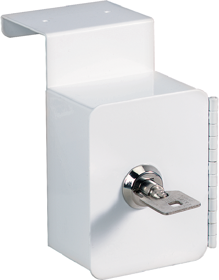 Over Door Key Keeper Ace
Part#: HPCKEP-12KA96
Hot#: 105815

Available: 12 ( 3 KAN, 1 LA, 5 LV, 3 SLC )

7-Pin Tubular Lock with one key H 3.25in x W 2.5in x D 2in


Series Overview
Specifications
Notice: The info below is not item specific.
HPC Inc Over Door Key Keeper
---
The Over Door Key Keeper™ is perfect for preventing lost keys and lockouts! Secure one key or several in the keeper. The box is placed over the top edge of the door. When the door is closed, the top mounting screws are hidden. The key keeper has a sturdy piano hinged door. It is made of heavy gauge steel and has a charcoal gray finish. Specify type of lock preferred.
Technical Information:
| | | | |
| --- | --- | --- | --- |
| KEP-12-81 | 7-Pin Tubular Lock with two keys - KA | 3.25"H x 2.5"W x 2"D | 1 lb |
| KEP-12-95 | 7-Pin Tubular Lock with two keys - KA | 3.25"H x 2.5"W x 2"D | 1 lb |
| KEP-12-96 | 7-Pin Tubular Lock with two keys - KA | 3.25"H x 2.5"W x 2"D | 1 lb |
| KEP-12-97 | 7-Pin Tubular Lock with two keys - KA | 3.25"H x 2.5"W x 2"D | 1 lb |
| KEP-13-301 | 5-Wafer Cam Lockwith two keys - KA | 3.25"H x 2.5"W x 2"D | 1 lb |
| KEP-13-303 | 5-Wafer Cam Lockwith two keys - KA | 3.25"H x 2.5"W x 2"D | 1 lb |
Specifications for HPC Inc HPCKEP-12KA96
Other Specs
| | |
| --- | --- |
| Alternate Codes | 105815, 508143, KEP-12KA96, KEP12KA96 |
| Category | Key Boxes, Safes |
| Lock Type | 7 Pin Tubular Lock |
| Mount Type | Over Door |
| Storage Type | Key |