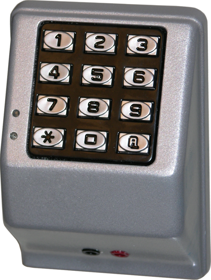 Trilogy T3 Keypad Standalone Access Wall Mount, Weather Proof, 2000 Users, 40,000 Event Audit Trial, 500 Scheduled Events, Metallic Silver
Part#: ALADK3000MS
Hot#: 131935
Finish: Metallic Silver

Available: 22 ( 7 DEN, 1 KAN, 2 LA, 1 LV, 1 PHX, 9 SEA, 1 SLC )

PC & Keypad programable, Digital Access Keypad is Ideal for use with 12V or 24V AC or DC Electric Door Strikes or Mag Locks, Vandal Resistant


Alarm Lock Access Keypads: 12/24V AC/DC with Trilogy Features
---
Instead of a lock, the DK3000 keypad operates main and auxiliary relays, and can be used to trigger a door strike, an electromagnetic door lock, or any other relay activated device. Programming may be performed manually from the keypad, or from a PC using Alarm Lock's DL-Windows Software.
Available in keypad only and keypad plus prox. Holds up to 2,000 user codes, Master, Management, Supervisor & basic user. 500 event schedule, real time clock & 40,000 event audit trail. Prox unit will read most HID cards and keyfobs.
Note: The DK3000 is not a complete lock system, and should be thought of as a lock controlling device. The DK3000's Primary/Entry and Auxiliary relays can be used to activate or deactivate a door strike or a door magnet locking device.
In a typical application, the DK3000 will energize its Primary/Entry Relay upon the keypad entry of a valid user code. The relays used in the DK3000 are of the three contact Form C type, containing a Common, Normally Closed, and a Normally Open contact.
---
Trilogy DK3000 FEATURES and BENEFITS
2000 PIN user codes, multilevel security access control keypads
Ideal for use with 12V or 24V (AC or DC) electric door strikes, mag locks or Alarm Lock Remote Release Mag Lock Kit
Wall mount or single gang box
2 High-Current Rated 8A Relays for entry, alarm zone shunting or lock release by real-time schedule
Vandal-resistant, all metal 12-button keypad
Keypad or PC programmable
40,000 Event audit trail report/print to PC or hand held printer or DTMIII Data Module
Timed Egress Input – Selectable door open times 5, 10 or 15 seconds
500 Scheduled events & real time clock
Tamper supervised (reportable to alarm system)
Remote release feature; request-to-exit input
Weatherproof -31 deg. to 151 deg.F (-35 deg. to +66 deg.C)
Trilogy PDK3000 FEATURES and BENEFITS
Same features as DK3000 above, plus:
Built-in HID proximity reader
Accepts up to 2000 PIN codes and/or HID cards and keyfobs
Specifications for Alarm Lock Systems Inc ALADK3000MS
Other Specs
| | |
| --- | --- |
| Access Type | Keypad |
| Alternate Codes | 131935, DK3000MS |
| Category | Access Control, Prox Readers & Keypads (Standalone), Standalone |
| Finish Code | MS |
| Finish Color | Metallic Silver |
| Handing | Non-Handed |
| Manufacturer | NAPCO Security |
| Series | DK3000 Series |
| Supplier | Alarm Lock |