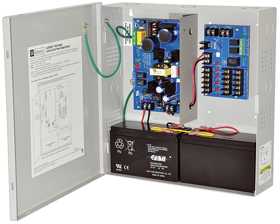 12/24VDC UL POWER SUPPLY W/MOM5
Part#: ALXAL300ULM
Hot#: 138506
Overview
Specifications
Helpful Links
Altronix AL300ULM Multi-Output Power Supply/Charger
---
AL300ULM multi-output access control power supply/charger is specifically designedfor use with access control systems and accessories. This unit converts a 115VAC / 60Hz input into five (5) individually protected Class 2 Rated power limited 12VDC or 24VDC outputs.
Each output will route power to a variety of access control hardware devices including Mag Locks, Electric Strikes, Magnetic Door Holders, etc. These outputs will operate in both Fail-Safe and Fail-Secure modes.
Controlled trigger input is achieved through normally open (N.O.) or normally closed (N.C.) supervised input or the polarity reversal from an FACP (Fire Alarm Control Panel). A form "C" dry output relay enables HVAC Shutdown, Elevator Recall or may be used to trigger auxiliary devices.
---
SPECIFICATIONS
Input:

Input 115VAC / 60Hz, 3.5 amp.
Input fuse rated @ 3.5 amp/250V.
Fire Alarm Panel or Access Control System trigger inputs. N.O. or N.C. supervised trigger input and polarity reversal trigger input.

Output:

12VDC or 24VDC selectable outputs.
2.5 amp supply current.
Burglar Alarm Applications:

12VDC = 10VDC-13.2VDC
24VDC = 20VDC-26.4VDC

Five (5) PTC protected outputs, rated @ 2 amp.
Output relay energizes when unit is triggered (form "C" contact rated 1 amp @ 28VDC).
Filtered and electronically regulated output.
Short circuit and thermal overload protection.

Battery Backup:

Built-in charger for sealed lead acid or gel type batteries.
Automatic switch over to stand-by battery when AC fails.
Maximum charge current 0.7 amp.

Supervision:

AC fail supervision (form "C" contacts).

Notification trigger is selectable for 30 seconds (factory set) or 6 hours.

Low battery supervision (form "C" contacts).
Battery presence supervision (form "C" contacts).
Power fail supervision relay (form "C" contacts).

Visual Indicators:

AC input and DC output LED indicators (power supply board).
Red LEDs indicate condition of power outputs (multi-output board).
Power and input trigger LEDs (multi-output board).

Electrical:

Operating temperature: 0° C to 49° C ambient.
BTU/Hr.:

12VDC: 15.35 BTU/Hr.
24VDC: 30.71 BTU/Hr.

System AC input VA requirement: 402.5VA.

Mechanical:

Enclosure Dimensions (H x W x D approx.): 13.5" x 13" x 3.25" (342.9mm x 330.2mm x 82.55mm)

Accommodates up to two (2) 12VDC/7AH batteries.

Product weight (approx.): 7.6 lbs. (3.45 kg).
Shipping weight (approx.): 8.6 lbs. (3.9 kg).
Specifications for Altronix ALXAL300ULM
Other Specs
| | |
| --- | --- |
| Access Type | Power Supply |
| Alternate Codes | 138506, AL300ULM, PIB1230ULM |
| Voltage/Amp Rating | 12 - 24V DC |