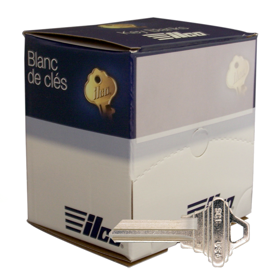 Schlage 250 Bulk Pack Key Blanks
Part#: ILC250-SC1-NP
Hot#: 107080

Available: 99+ ( 99+ DEN, 99+ KAN, 99+ LA, 99+ LV, 99+ PHX, 99+ SEA, 99+ SLC, 99+ STX )

Series Overview
Specifications
Notice: The info below is not item specific.
Ilco Unican Corporation Cylinder Keys
---
The Ilco and Ilco EZ line of cylinder keys are comprised of several thousand commercial and residential key blanks. This line includes metal head, plastic head, flat steel, safe deposit, tubular, and bit and barrel keys.
Residential and Commercial: For residential and commercial, the Ilco line contains both metal and plastic head keys. Plastic head keys are available in a variety of colors for quick identification. To satisfy the demands of the market, keys are manufactured either in brass or nickel silver material. Many keys are nickel-plated to assure a long-lasting, durable and bright finish.
Flat Steel and Safe Deposit: Ilco offers an extensive line of high-quality Flat Steel and Safe Deposit key blanks that are used in warded padlocks, gym lockers, yard tractors, etc.
Bit and Barrel: With generations of newer and more secure locking mechanisms available in the market, the use of Bit & Barrel keys is diminishing; however, Ilco continues to offer a line of these keys to meet consumer needs, largely in restoration projects.
Specifications for Ilco Unican Corporation ILC250-SC1-NP
Other Specs
| | |
| --- | --- |
| Alternate Codes | 107080, 108688, 250-SC1-NP, 250SC1NP, KEY-SC1-NP, SC1 |
| Category | Bulk Key Blank Packs, Domestic & Foreign, Key Blanks & Accessories |
| Keyway | Schlage C |